Summary

A freight airline has yielded over 109 per cent returns and paid steady quarterly dividend of C$ 0.234 per unit this year.
A power firm's stock has also gained 212 per cent in 2020 and made it to TSX30 Stocks of 2020.
Two railway stocks have outperformed S&P/TSX Capped Industrials Index and distributed consistent dividends in 2020.
The industrial sector experienced a setback for a short span of time as investors switched to safe holdings amid the COVID-19 pandemic. However, there are a few stocks that have soared to the next level during these grim times. The transportation segment of the sector has delivered exceptional growth this year. Consequently, S&P/TSX Capped Industrials Index has gained over 14 per cent in 2020.
We skim through the hot industrial stocks that have been on a bull run this year:
1. TFI International Inc. (TSX: TFII)
The Montreal-based transport and logistic company has added nearly 54 per cent to its market cap in 2020, guided by its package and courier segment. The mid-cap stock offers a positive return on equity (ROE) of 19.15 per cent and a positive return on assets (ROA) of 6.94 per cent. The stock is delivering present earnings per share of C$ 3.03.
The company pays a quarterly cash dividend of C$ 0.29 per unit and currently yields 1.755 per cent.
This construction company's stock has also outperformed the benchmark TSX index, with a one-year total return of over 39 per cent. The stock has a positive ROE and ROA and a price-to-cashflow ratio of 11.20. The large-cap company distributes a quarterly dividend of C$ 0.375 per share and holds a current dividend yield of 1.23 per cent as per TMX data.
3. Canadian Pacific Railway Limited (TSX: CP)
The railway stock has returned over 35 per cent year-to-date, led by its record freight volume deliveries. Its current market cap stands at C$ 59.75 billion. The stock delivers almost 30 per cent of return on equity. CP's Board of Directors approved a quarterly cash dividend of C$ 0.95 per stock for the current quarter. The blue-chip stock has earnings per share (EPS) of C$ 16.92, according to the TMX portal.
This railway transport stock too has managed to surpass the industrial index and yielded over 22 per cent returns this year. The transport stock has a double-digit ROE and P/CF ratio. The company is paying a quarterly dividend of C$ 0.575 per unit. Its three-year dividend growth is 11.02 per cent. The company has a current market cap of over 100 C$ billion.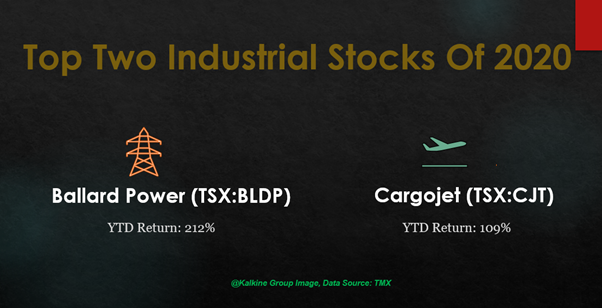 5. Ballard Power Systems Inc. (TSX: BLDP)
This industrial products firm made it to Top TSX30 stocks of 2020, led by its one-year equity growth of approximately 212 per cent. The stock has a P/CF ratio of 139.90 and a present P/B ratio of 12.498. Its current market cap is C$ 7.34 billion, as mentioned on the TMX portal. The company also ranks among TMX's top industrial stocks.
6. Cargojet Inc. (TSX: CJT)
The air logistic stock has surged over 109 per cent in 2020, driven by the record goods shipment amid the COVID-19 spread. The airline stock has a P/B ratio of 17.76 and a current P/CF ratio of 14.20. Cargojet has paid a constant quarterly dividend of C$ 0.234 per share in 2020. The stock ranks among TMX's top price performers.