Summary

Job losses in the service sector, primarily compromising of frontline workers from travel, hospitality and brick and mortar stores, seem to be aggravating income inequalities.
Growing economic crisis and acute recession could accentuate unemployment crisis for workers.
Substantial investment in green sector infrastructure would be able to mitigate the economic inequality risk, while also ensuring ecological sustainability.
The lingering effects of sleepless midnight hours that you spend pondering over the finances may have encouraged you to curb leisure expenditure. Or maybe giving up thee shopping spree is apparently your massive sacrifice for ensuring financial sustainability of the household. However, plight of the ones at the bottom of social ladder appears to be many times high as they struggle to fulfil daily essential requirements.
Thousands of job losses marking the period of business stillness is shaking the stability as income consistency is hampered. Meanwhile, cash injection into the economy through stimulus packages has massively increased the fiscal deficit.
Substantial job losses have evoked worries around income inequalities. According to the April 2020 ABS statistics, unemployment rate, increasing by 1% point, reached 6.2% in Australia. Meanwhile, the March Quarter performance indicated that the jobs filled in Australia decreased by 9,200.
The frontline workers would be primarily exposed to the economic decline as the favourable circumstances drop as evident from dipping customer volumes, while they may not be able to leverage the newer alternate technology. Meanwhile, the country apparently witnessing recession for the first time in 29 years will have a huge battle ahead to fight the ghost that disturbs nation's tranquillity by widening the chasms of inequalities.
Economic Troubles Indicating Deep Uncertainty
The lockdown to check infection growth and its repercussions have primarily affected the incomes of people from all walks of life while they struggle to adapt to changing business scenario.
Although businesses are once again reviving their operations, many expect that economy is at the brink of enormous recession, bringing colossal financial distress to Australians. While Treasurer Josh Frydenberg affirmed that the economy is in recession, Australian PM Scott Morrison cited recovery as a "hard road back".
The latest outlook from the Organisation for Economic Cooperation and Development (OECD) indicated a probable contraction of 6.3% in the year 2020. While, the figures from the Australian Bureau of Statistics stated the GDP for Australia contracted by 0.3% in the March 2020 quarter.
OECD called the Australian government to introduce further measures that would assist businesses and households to stay afloat during difficult times. The conundrum around the extension of the wage subsidy scheme is building the dilemma, especially for the ones who do not have large deposits and are heavily reliant on wages.
Initial signs of brimming income inequalities have already surfaced in the form of a significant income losses for the lower-income groups. In the forthcoming time, the expanding monetary gaps between different social class would carry several implications impeding the growth of individuals, society and nation as a whole.
Such a desperate time in Australian history demands all to circle the wagon to wade off the budding circumstances that can lead to enormous social and national disaster.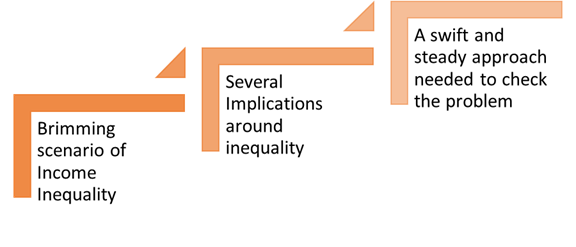 Setting the context to Inequality: Major Causes
Work from Home Not for Blue Collar Workers
The booming technological innovations provided remote working facilities to knowledge workers through the availability of necessary cloud software, conferencing tools, etc. Backed by emerging tech-trends, S&P/ASX All Technology Index has given massive QTD return of above 40%.
However, the nature of jobs of most of the frontline workers did not permit work from home culture. In the event, while some risked their health, others faced job loss risk as business operations were shut.
Service Industry Disaster
The hospitality industry is battered by social distancing norms as people shunned travel and other high-interaction services. Deloitte estimates job loss of above 50% in the accommodation, food services, arts and recreational activities, compared to about 10% in the industries depending on the knowledge workers.
Meanwhile, the report also indicated that it would take around five years for service industries to return to their pre-covid level. While, the industries with knowledge workers are expected to revive in 1 year.
Absence of Skillsets to Adapt
Majority of workers employed in the sectors hardest hit by the Covid-19 impacts did not have tech-centric skillsets that could be applied to transform to suit the changing norms quickly. Meanwhile, many of them pushed out of jobs face the challenge of finding work in other areas as they do not possess necessary versatile skills.
Glimpse at the Knock-on Effect of Inequality
Social Issues Surge
Wide disparity in earnings results in dwindling trust between the classes, leading to decline in the social cohesion. While, higher-income groups are often better positioned to exploit the marginalised workers.
Productivity Concerns surrounding Inequality
Lower income to sustain lives and poor living standards not only generate health issues for the workers but also limits their efficiency. In the absence of sufficient resources, education quality for the children in low-income groups can also be affected, having long-term economic implications for the country.
Slow Economic Growth and Economic Instability
Wide gap in incomes would mean that opportunities grow for the rich to save the money, which otherwise would have been spent in low-income groups. It altogether leads to dwindled cash flow in the economy, leading to slow economic growth. Meanwhile. the demand stimulating measures by the government may create asset bubbles.
Battling the Insecurities Around Economic Imbalance
Government monetary support
Dedicated government's support would be needed in the form of fiscal policies to provide sufficient assistance to people who have lost their jobs in the times of crisis. Here the role of Wage Subsidy post September needs to be looked at. Meanwhile, facilitating the infrastructure development that bolsters job creation would also assist in boosting the employment scenario on a long-term basis.
Development of necessary skillsets
Integrated efforts involving government's skill development programs and workforce participation is needed to survive critical times and avoid widening inequalities. Handling of tech-based solutions centric to their industries can be mainly effective to ensure enhanced employment prospects.
Being Open to a career change
Workers need to be pushed to display flexibility and openness to significantly look for other industries where they can make use of their skillset and earn money, without compromising the stability of the income.
While socio-economic factors are posing substantial threat to income security of the service industry and blue-collar workers, strategic measures in terms of government's support, skill enhancement and career flexibility can chart out growth prospects here. Moreover, duration and nature of economic recovery, business confidence and virus containment success play an important role here.