Life in the stock market may be complicated but living from paycheck to paycheck is no fun. Especially in the going era, investing can be a financial boon, despite the associated risks, for millennials who are known to be good savers.
In an extensively connected world with globalisation, interlinkages between economies, easy availability of financial tools and presence of cyclical market booms, allowing one?s money to sit in a bank account and slowly loose its value due to inflation is not just financially unsound but impractical as well. Sound equity Investing puts one?s money to work and can fetch some small to hefty returns, hence, augment the total income from time to time.
Especially, when the companies that you invest in grow, say on the back of a flourishing economic landscape, their shares also grow in value. The advocates of Growth investing, that is putting your? money into buying stocks of growing companies or industries, consider it a highly attractive strategy that is capable of delivering amazing profits.
Growth stocks: For more than a decade, the investment merits and risks of owning growth stocks has been a subject of consuming interest and fascination to investors and security analysts alike. Growth stocks belong to those companies that are fast growing or expected to grow at a rate meaningfully above the average for the market. Generally, these companies tend to be young, and have a good potential to offer higher returns to the shareholders. In addition, growth stocks generally have high price-to-earnings (P/E) ratios, high price-to-book ratios, high revenues and gross margins. For example, livetiles limited, Netflix, Invidia, Dropbox, Amazon, Spotify etc.
In addition, Tech stocks also present a good example of growth stocks as they tend to invest their excess profits back into their businesses and are heavily driven by R&D and innovation.
Usually, these companies do not pay dividends, as the earnings and the profits are ploughed back or reinvested into the business and expansion projects to propel accelerated growth in the short term. In this case, investors earn money through capital gains when they eventually sell their shares and thus have to be on top of their portfolios and keep track of the performance of the companies in their investment basket.
However, Growth investing is said to be riskier than other types of investment strategies. Shares of growth companies can be highly volatile. Therefore, this aggressive investing strategy may not be suitable for everyone. Common sense seems to dictate that you should have some portion of your portfolio in these celebrity stocks. Ignore them at your peril. To own them is to love them.
Favoured by the market Experts during an improving economy
The market experts believe that the investors must be ever ready to change course to gain from the changes in market cycles. Especially, during the times of an improving economic backdrop, the growth stocks are known to do extremely well in a foreseeable future and are recommended by the investment experts. A bullish market in known to be conducive for growth stocks, which can be bet upon confidently as these companies have a good cash flow visibility.
Such companies may have entered a period of vigorous and rapid expansion in earnings and sales. Typically, the growth investor looks for large increases in earnings per share for at least the three most recent quarters, and such increases should be at least 25% for the companies to be considered.
However, individuals can?t blatantly buy and hold such stocks for the simple reason that soon after a growth stock has made a huge price jump (say, 100%, 300%, or even 1000% or more), it can also fall back in price just as much, or more. So, that needs to be taken care of by following a well-planned investing discipline.
Most of the stocks have the potential to become growth stocks in a booming economy.
Nevertheless, there's no guarantee for how long this growth can be sustained, yet the appeal of such stocks is obvious.
A good example of growth stocks can be understood from the state of Internet sector during the late 1990s when dot.com boom occurred that led to the speculative investment bubble formed around internet companies. The skyrocketing prices of internet stat-ups enticed the investors to pour in their money that made excess capital available to these emerging internet companies.
However, eventually, several companies had their fortunes amassed and dwindle away as rapidly, while a few others survived passing the growth stage and turned into long-term players on the scene, Amazon.com and eBay, to name a few.
A rational investor needs to take note of these rapid price appreciations, take the ride up, and step out of the game by the time the correction starts, albeit easier said than done. At times, even when the general market may be stagnant, a strong growth stock company has a product or service that transcends the overall trend.
?????? Signs of an improving economy and how it impacts companies
Growth investing can often be most advantageous in a healthy economy where companies are benefiting from increased demand and more corporate and consumer spending. In addition, the Banks also lend to retail clients and corporates more flexibly in such a scenario as against during a downturn.
Macroeconomic indicators have huge implications on how the companies perform including the ones in your portfolio.
Gross Domestic Product (GDP)- A crucial measure of a country?s economic health, GDP is defined the total value of services and goods produced within the borer of a nation. Theoretically, it is the sum of all public and private consumer spending, investments and exports less imports that occur within a defined territory.
Thus, a high GDP implies a well-functioning economy, which positively impacts earnings and growth of the companies in the stock market. Obviously, these sorts of higher profits please investors of all stripes and will push them into equities.
Unemployment rate- the rate of unemployment is also significant in determining the strength of the economy and its constituent companies. Investors should closely follow this figure as well as more jobs equate to higher production, retail sales, savings and corporate profits.
Consumer Price/ Produce Price Indexes? Both these indices measure the price changes of the basket of goods and services across more than 200 different categories. It is well known that periods of high consumer and producer inflation casts a doom spell on corporates as rising costs would hurt profitability and depress stock values. Thus, the stock market may rise, or fall based on indications from these parameters.
Consumer Confidence- A good level consumer confidence prevailing in the economy leads to higher spending and higher number of orders for the manufacturers, thereby bolstering the business confidence. This has a direct impact on the stock market.
Interest Rates- The prevalence of lower interest rates in an economy implies that money becomes more easily available to borrow and therefore, companies look to expanding or hiring more workers. All of this adds up to cause a tailwind for the stock market in general, growth stocks in particular.
There are various other factors that affect the economic climate, performance of companies and the entire stock market. So, whenever these factors are acting favourably for the economy, they drive good earnings for the growth stocks, which the investors may capitalise upon as it lasts.
Risks Associated with growth Stocks:
Need to pay high valuation.
Susceptibility to price swings in the stock market.
Execution risks for emerging companies looking initially attractive.
Cyclicity of growth stocks
More on how to evaluate growth stocks can READ Here.
Let?s take a look at some of the Australian growth stars and their prevailing strong fundamentals.
Appen Limited
Appen Limited (ASX: APX), based in Chatswood, Australia, is a language, search, and social technology company that offers solutions to improve internalization of products, management of data, and project management for companies. With a market cap of AUD 3.68 billion, the APX stock is trading today (12 July 2019, AEST 12:38 PM) at AUD 30.550, up 0.33%. For FY18, the company recorded a 119% growth in its revenues to $ 364.3 million and an improvement in Underlying EBITDA margins from 16.9% 19.6%. Besides, the underlying NPTA also grew 148% to $ 49.0 million.
Source: CEO Presentation
Bravura Solutions Limited
Bravura Solutions Limited (ASX: BVS), based in Sydney, provides wealth management applications software services to the wealth management and funds administration industries, including 70+ blue chip clients, worldwide. The company?s market capitalisation stands at around AUD 1.13 billion with approximately 243.17 million shares outstanding. The business is characterised by high degree of recurring revenues with a five-year revenue CAGR of 12%. Bravura Solutions? half-yearly results for the six months to 31 December 2019 are illustrated below.
Source: Investor Presentation
Source: Investor Presentation
Xero Limited
Another growth star is the software as a service company, Xero Limited (ASX: XRO), headquartered in Wellington, New Zealand, which offers a cloud-based accounting software that connects small businesses to their advisors. Xero reported strong progress in top line growth, positive cash flow generation and profitability in its full-year earnings to 31 March 2019 (FY19). A snapshot of the company?s consistently outstanding results is as follows.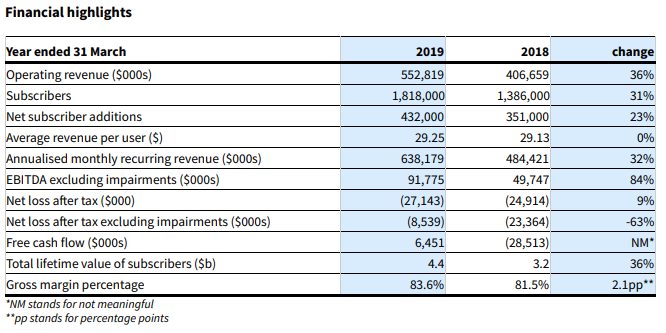 Source: Market Release- FY19 Annual Results
Source: Investor presentation - FY19 annual results
---
Disclaimer
This website is a service of Kalkine Media Pty. Ltd. A.C.N. 629 651 672. The website has been prepared for informational purposes only and is not intended to be used as a complete source of information on any particular company. The above article is sponsored but NOT a solicitation or recommendation to buy, sell or hold the stock of the company (or companies) under discussion. We are neither licensed nor qualified to provide investment advice through this platform.