Highlights

Immix Biopharma, Inc. (IMMX) stock jumped 110.29% at 9:38 am ET.
The company received a Rare Pediatric Disease (RPD) designation for IMX-110.
The company launched its IPO on Dec 16, 2021.
Shares of Immix Biopharma, Inc. (NASDAQ: IMMX) jumped more than 110% on Monday after it announced receiving a Rare Pediatric Disease (RPD) designation for its cancer drug IMX-110 from the US Food and Drug Administration (FDA).
The IMMX stock traded at US$7.70, up 110.29% at 09:38 am ET.
The IMX-110 is used for treating a life-threatening form of pediatric cancer in children called Rhabdomyosarcoma (RMS). The drug is under Phase 1b/2a clinical trial evaluation.
RMS cancer afflicts some 20,000 children in the US. According to experts, RMS' five-year survival rate is 20% to 30% when it is widely spread in the body.
The RPD designation is given for life-threatening diseases.
Also Read: 2 dividend ETFs to consider in January 2022
The Los Angles, California-based company, which specializes in tissue-specific therapeutics in oncology and inflammation, may apply to FDA for Priority Review Voucher (PRV) after its new drug application (NDA) for IMX-110 is approved.
The voucher would be useful for Immix Biopharma to get priority review for any of its subsequent marketing applications, which may also be transferred or sold.
Also Read: Two SaaS stocks to keep a watch in 2022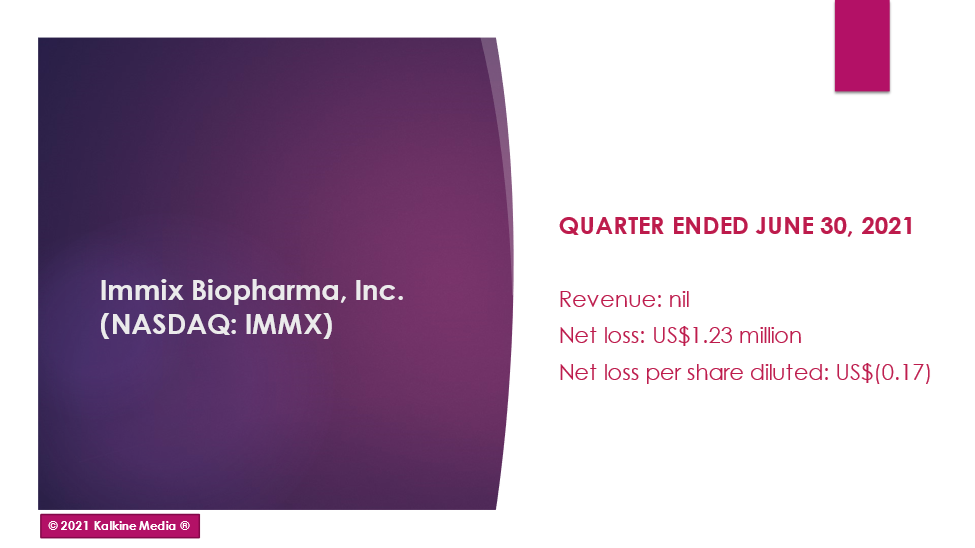 Also Read: Top 5 retail stocks to keep an eye on in 2022
Stock Performance & Financials
The specialty chemical company has a market capitalization of US$26.9 million.
Its stock price moved between US$6.31 and US$2.85 in the last 52 weeks. It closed at US$3.56, up 9.2%, on Dec 31, 2021.
Also Read: Top biotechnology stocks to explore in 2022
The company earned no revenue in the quarter ended June 30, 2021. Its operating expenses were US$0.41 million, and the net loss was US$1.23 million or US$(0.17) per share diluted.
Immix's trading volume surged to 47,027,735 on Monday compared to its 30-day average of 461,397.
Also Read: 5 stocks under US$5 that could give you a head start in 2022
Bottomline
Amid the pandemic-driven focus on healthcare, the IMMX stock raked in 110% growth since its IPO in December, while Dow Jones US Specialty Chemicals Index gained 4.77% in a month.