Highlights:

Amazon (AMZN) will hold a "Cyber Monday Weekend Event" from Saturday, November 26.
Revenue of Levi Strauss & Co (LEVI) surged one per cent YoY in Q3 FY22.
On a last three-year basis, Shopify Inc. (SHOP) had a revenue CAGR of 52 per cent.
The US market has witnessed choppy trading so far through the year, with about most of the sectors falling into the bear market territory. Having said that, the S&P 500 index noted its worst first-half performance in several years, while the other two indices also fell into the bear market.
This week, investors might keep a close track of two key events like Thanksgiving and Black Friday.
The market participants are hoping that consumers might loosen their purse strings this year during the holiday shopping season. Meanwhile, the figures of the holiday spending plan are expected to provide insights to investors on how consumers are handling the decades-high inflationary pressures and other uncertainties in the market.
The latest strong retail sales data seemed to have lifted the market spirits, and the consumers are holding up their spending. In addition to that, the inflation data for October also suggested that inflation is cooling, in the wake of the Fed's aggressive tightening of its monetary plans.
The stronger-than-anticipated retail sales data also allayed some concerns of investors that the economy is heading toward a recession. Traders have lauded the latest set of positive economic data, including the US GDP readings for the third quarter.
The data showed that the nation's economy has advanced in the last quarter, after retreating for the starting two quarters of the year.
Meanwhile, while talking about the US e-commerce segment, the first name that pops up is Amazon.com, Inc. (NASDAQ: AMZN). However, several other companies comprise the e-commerce segment.
Some of the companies include Levi Strauss & Co (NYSE: LEVI), Shopify Inc. (NYSE: SHOP), eBay Inc. (NASDAQ: EBAY), and Poshmark, Inc. (NASDAQ: POSH).
So, let's take a quick tour of the recent stock performance and other key details about these stocks ahead of the holiday season for 2022:
Amazon.com, Inc. (NASDAQ: AMZN)
The leading American technology conglomerate firm and e-commerce service provider by market cap, Amazon.com, Inc. had a P/E ratio of 86.41. The US$ 951.03 billion market cap tech firm, which deals in e-commerce, cloud computing, etc., saw a decline of 43 per cent YTD and 49 per cent YoY from its stock price.
The AMZN stock lost over 16 per cent in the ongoing quarter through November 21, while touching its 52-week low of US$ 85.87 on November 9, 2022.
The e-commerce company said that it would hold a "Cyber Monday weekend event" that would continue from Saturday, November 26, to Monday, November 28. The company said that this event would provide "deep discounts" on several of its top-category products.
In addition, the firm said on November 14, that it would offer "millions" of deals at a variety of price points globally, which would continue during its 48-hour Black Friday event starting on Thursday, November 24.
In Q3 FY22 which ended on September 30, 2022, Amazon.com's net sales plunged 15 per cent YoY to US$ 127.1 billion, and its net income was US$ 0.28 per diluted share, against US$ 0.31 apiece in the year-ago period.
Levi Strauss & Co (NYSE: LEVI)
Levi Strauss is a popular clothing brand that has also shifted its focus into the online retail business in recent years. It has a dividend yield of 3.15 per cent. The stock of the clothing company, which is globally known for its Levi's brand of denim jeans, fell over 37 per cent YTD and about 44 per cent YoY.
In the running quarter, it added nearly nine per cent through Monday, November 21. It touched its 52-week low of US$ 13.57 on October 13, 2022.
Levi Strauss & Co's revenue surged one per cent YoY and seven per cent YoY in constant currency to US$ 1.5 billion in Q3 FY22, and its net income fell 11 per cent YoY to US$ 173 million.
The major clothing brand expects its annual revenue growth to be between 6.7 per cent and seven per cent YoY, and in the range of 11.5 per cent to 12 per cent in constant currency.
Shopify Inc. (NYSE: SHOP)
The leading Canadian e-commerce firm, Shopify Inc holds a market cap of US$ 45.64 billion. The multinational e-commerce firm that offers its platform for online shopping and retail point-of-sale solutions, noted a slump of 73 per cent YTD and 78 per cent YoY in its stock price.
Shopify Inc's revenue surged 22 per cent YoY to US$ 1.4 billion in Q3 FY22, while its last three years' revenue CAGR was 52 per cent. The e-commerce firm's net loss was US$ 0.12 per basic and diluted share in Q3 FY22, against an income of US$ 0.905 per diluted share in Q3 FY21.
eBay Inc. (NASDAQ: EBAY)
The global online marketplace, that facilitates consumer-to-consumer and business-to-consumer services, eBay Inc holds a dividend yield of 1.93 per cent. The stock of the e-commerce firm, which offers several top-brand products through its platform, fell over 31 per cent YTD and about 39 per cent YoY.
eBay Inc's revenue was US$ 2.4 billion in Q3 FY22, down by five per cent on a reported basis, and two per cent on an FX-Neutral basis, while its net income dropped by seven per cent YoY to US$ 552 million.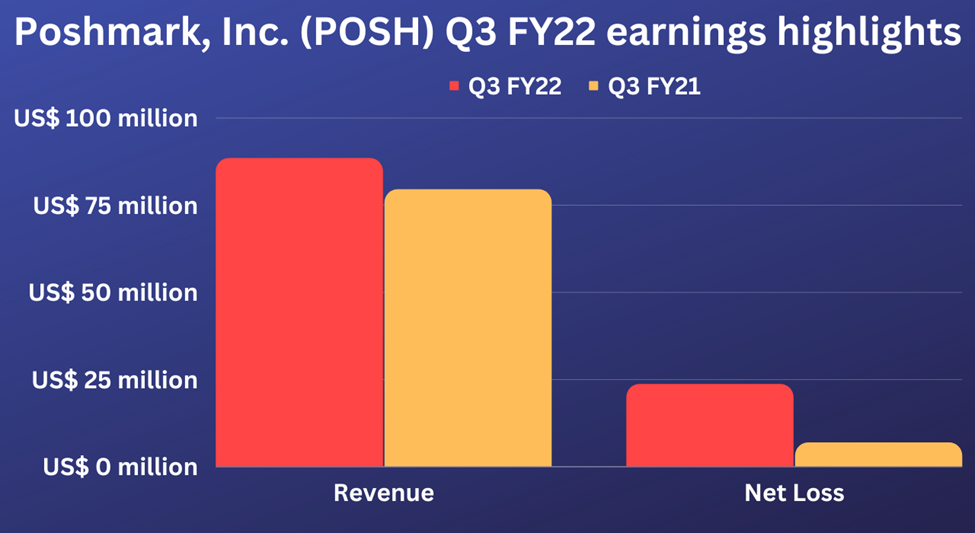 Source: ©Kalkine Media®; © Canva Creative Studio via Canva.com
Poshmark, Inc. (NASDAQ: POSH)
Poshmark is an American e-commerce company through which consumers could purchase or sell both new and secondhand products. The stock of the social commerce marketplace provider surged over four per cent YTD and about 13 per cent QTD.
Poshmark Inc's revenue soared 11 per cent YoY to US$ 88.4 million in Q3 FY22, and its GAAP net loss was US$ 0.30 per share, against a loss of US$ 0.09 apiece in Q3 FY21.
Bottom line:
The US retail sales jumped 1.3 per cent on a monthly basis in October, after remaining unchanged in the prior month, and on a YoY basis, the readings advanced 8.3 per cent, the Commerce Department report from last week showed.
The strong readings were buoyed by elevated gasoline prices, online retail sales, and furniture store sales, among others. Notably, online retail sales surged 1.2 per cent in October.
According to a National Retail Federation or NRF report from November 3, 2022, the holiday spending for this year is expected to remain stable despite the economic challenges. For the final two months of 2022, NRF estimated the holiday retail sales to increase about six per cent and eight per cent YoY to about US$ 942.6 billion and US$ 960.4 billion, respectively.
But given the volatile trading condition still hovering over the market, investors should tread more cautiously before betting on any sectors.