Summary

Disney subscribers increased to 103.6 million in Q2 from 33.5 million in the year-ago period.
Diluted earnings per share (EPS) increased to US$0.79 from US$0.60 in the same quarter a year ago.
Disney's quarterly revenues were down 13% to US$15.6 billion due to the pandemic.
The Walt Disney Company (NYSE: DIS) results for the second quarter ended April 3, 2021, was out on Friday. Its quarterly revenues were down 13% to US$15.6 billion, compared to US$18 billion in the quarter ended March 28, 2020.
The company attributed the revenue decline to the coronavirus pandemic.
Its diluted earnings per share (EPS) increased to US$0.79, compared to US$0.60 in the corresponding period of the previous year.
Disney Parks and other products posted a 44% decrease in revenue to US$3.2 billion. Its media and entertainment distribution business posted a 1% increase in revenue in Q2, thereby minimizing the loss to some extent.
Its sprawling parks and resorts had to be shut down or have operated in low capacity due to the pandemic, resulting in revenue losses. Disney's cruise and sailings were also suspended. Consumer merchandise revenue increased by 13%, which helped offset the losses partially.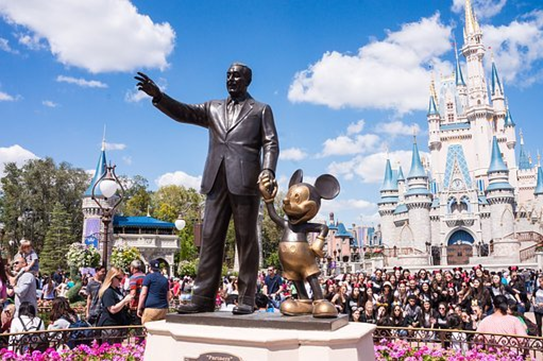 Pic Credit: Pixabay.
Also Read: Disney nails another milestone as subscribers soar in number

Disney Eyes Brisk Business This Year
Some of Disney's popular brands included Star Wars, National Geographic, Marvel, and Pixar. These brands have incurred heavy losses due to the pandemic over the past year. Although the recovery is in progress, thanks to the stimulus spending and vaccinations, businesses are still reeling under the weight of the second wave of the pandemic.
Disney parks and cruise businesses are expected to take more time to recover to the pre-pandemic levels. However, its media and entertainment businesses have made some progress.

Also Read: Disney+ on cloud nine after engaging billion-plus subscribers

Disney Plus's subscribers increased to a whopping 103.6 million at the end of Q2, in comparison with 33.5 million in the same quarter of 2020. The company said that it is on course to achieve its target of 260 million subscribers by the end of 2024.
Disney shares had plunged nearly 3% in the regular session on Friday, but recovered in the after-hours trade, gaining 0.07% from the previous close to US$173.825 per share.

Also Read: The Walt Disney Company (NYSE: DIS) sheds its old Avatar to aggressively take on Streaming Giant Netflix
While its media and entertainment business helped tide away from the crisis last year, it hopes to reopen its profitable theatre, theme park, cruise, and resort businesses in 2021.
Disney CEO Bob Chapek expressed confidence in the economic recovery and said that its ventures would look forward to a good business year ahead.
Also Read: Why Are Entertainment Stocks Cineplex & Walt Disney Rising?