Highlights:

The ARVL stock soared over 19 per cent in the pre-market hours on Friday.
The company had reached a milestone with its first production verification vehicle.
The share volume of the ARVL stock was over 2.90 million on Friday during pre-market hours.
The shares of the British electric vehicle (EV) maker, Arrival (NASDAQ: ARVL), seem to be gaining attention from the traders in the pre-market hours on Friday, September 30.
Meanwhile, the ARVL stock jumped more than 19 per cent in the pre-market hours on Friday, September 30, after the company said that it achieved a key milestone for its first production verification vehicle.
Here, let's take a closer look at the recent announcement of the EV firm and explore its key stock details:
Why is it gaining attention?
Arrival is an electric vehicle manufacturing company that focuses on mastering a more efficient way of designing, manufacturing, as well as providing services for EVs.
Meanwhile, the London-based EV company said on September 30, that it has completed production of its first production verification vehicle from its Bicester Microfactory.
The company successfully produced its first electric van in a Microfactory, through its in-house solutions that include materials, autonomous mobile robots, and other related components and technologies.
Arrival said that this is a major achievement of the company, especially for at-scale production and bringing the cars to its customers. According to the announcement, the EV company's first produced vans this year from its Microfactory in Bicester, United Kingdom, would only be used for testing and validation, instead of selling to customers.
The investors may get more detailed information on November 8 this year, when Arrival has scheduled to release its third-quarter earnings results.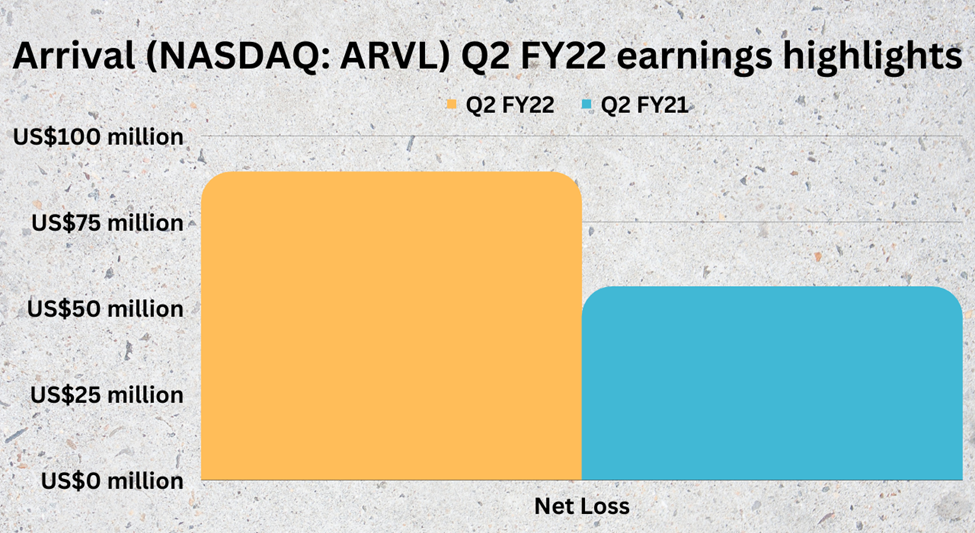 Source: ©Kalkine Media®; © Canva Creative Studio via Canva.com
Bottom line:
The price of the ARVL stock shot up 19.44 per cent at 7:32 am ET on September 30, to trade at US$ 0.9407, while its trading volume was over 2.91 million at the same time.
The US$ 599.94 million market cap EV manufacturer is likely to explore opportunities in the US in the coming days, given that President Biden's newly signed Inflation Reduction Act (IRA) provides several concessions on EVs.
Meanwhile, Arrival's net loss for Q2 FY22 was US$ 89.57 million, compared to US$ 56.20 million in the year-ago quarter.