Highlights

AIM listed and Africa focused natural resource investment company Armadale received its Mahenge Graphite project mining license approval today
The company's shares surged over 25 per cent following the news, causing it to be the highest riser in the industrial metals and mining sector on the LSE today
The mining license approval is a major de-risking measure for Armadale's investors
AIM listed natural resource focused investment company Armadale Capital PLC (LON: ACP) shares rose on Friday after it received a key mining license for its Mahenge Graphite project.
Armadale's shares surged by over 25 per cent, making it the highest riser of the industrial metals and mining sector index on the LSE today.
Armadale Capital (LON: ACP) share price performance
Armadale's shares were trading at GBX 5.70, up by 25.28 per cent on 3 September 2021 at 12:42 PM GMT+1. Meanwhile, the FTSE AIM All-Share index, which it is a part of, was at 1,310.49, up by 0.22 per cent.
Comparatively, the industrial metals and mining sectoral index was trading at 6,406.55, up by just 0.95 per cent.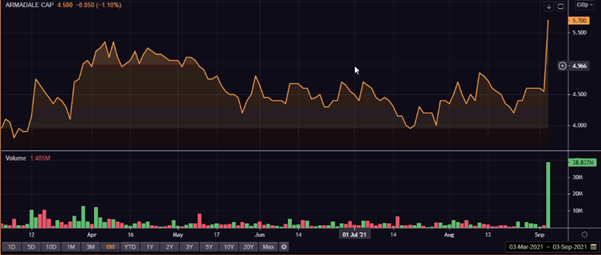 (Image Source: Refinitiv)
Armadale's market cap stands at £24.20 million, and its year to date return is at 62.61 per cent as of 3 September.

© 2021 Kalkine Media Ltd.
Armadale Capital mining license details
Armadale received the mining license ML/007744/2020 approval for a 10-year period for the Mahenge Graphite Project located in the south east of Tanzania.
The license was granted by the Tanzanian Ministry of Energy and Minerals, which allows Armadale exclusive mining and development rights over the graphite resources in the location. Thus, allowing Armadale to build a high-grade graphite mine.
According to Armadale's Definitive Feasibility Study (DFS), the graphite mine is expected to have a pre-tax net present value of US$ 430 million, an internal rate of return (IRR) of 91 per cent and have a payback period of 1.6 years.
Bottom Line
The grant of this mining license is a significant de-risking milestone for the company's investors. Thus, investors seeking to invest in penny stocks may consider investing in this stock.
However, as the stock is close to its 52-week high of GBX 5.95, investors should aim to time their investments in the coming days once its price stabilises in order to maximise potential returns.