Summary

The mining company aims to produce between 0.5 to 1.5 million ounces of gold at its Nevada exploration sites
The company share prices jumped after the news came in
The Great Western Mining Corporation plc (LON: GWMO) released its operations update on 15 October 2020 in which it provided details about its roadmap to production. The company was well on track to produce gold and silver metals at Mineral Jackpot (MJ) properties, Nevada and the laboratory testing had been completed. Nevada is rich in minerals and is known as world's most mining friendly state in terms of legal regulations.
These precious metals would be produced through the process of gravity separation in the medium term. However, a suitable leaching facility is being devised for the long term, which is expected to improve the rate of recovery. The company did not share the exact timelines for production as it was dependent on third party contractors for work completion.
Great Western Mining is into mining and exploration of copper, gold, and silver in Ireland, Britain, and the US. It is listed on the AIM index at the LSE. During the first half of the year 2020, the company had recorded availability of gold and silver from soil samples at two of its sites namely the Mineral Jackpot and the Rock House.
Brian Hall, Chairman of the company said Great Western would be producing gold and silver from spoil heaps at MJ properties, which shall prove their concept.
The company shares shot up by 3.92 per cent at the LSE on 15 October after the update was released. They closed at a value of GBX 0.27 on that day.
Also Read: Not Only Gold but Gold Stocks Can Also Be A Haven in The Time of Crisis
Also Read: Silver Miners Pulling Development Strings
Exploration Highlights at Mineral Jackpot, Nevada, US
This would be the company's first gold from the Mineral Jackpot operations in 2020
Located at the Black Mountain Group, having 5 gold mines
Access road was upgraded in August 2020
Samples collected from 38 spoil heaps
Two spoil heaps used for initial evaluation
Soil sampling doubled the earlier known mineralisation target
Two kilometer plus length of the strike revealed
Material consignment offloaded for processing
Trenching and drilling being carried out based on sampling results
Financials
In its latest financial results for the six-monthly period ending 30 June 2020, the company recorded a loss after tax of €0.48 million (H1 2019: €0.42 million).
The value of GWMC's total assets was worth €6.45 million (30 June 2019: €6.27 million).
The mining group has also gained options to buy the Olympic gold project in the US. Exploration process has also been initiated at Nevada for the same, confirming the potential for gold enrichment.
According to the company, it is on track to attain its gold and silver production targets for the year 2020, despite the dampening impact of the coronavirus pandemic. It is to be noted that travel of company officials between the US and Europe has not been possible post the advent of the global pandemic in March 2020. Despite that, the staff has worked in close coordination through other means like phone calls, emails, video conferencing etc.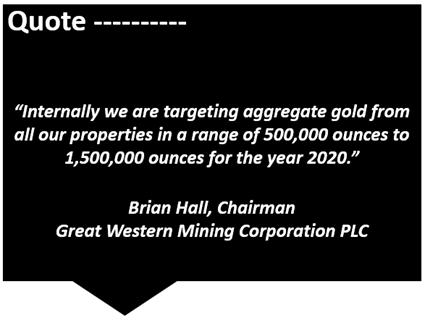 Apart from gold and silver, the company also owns 4.3 million tonnes of copper resources at its Black Mountain site.
At the company's Rock House cluster of mines, gold was produced during the first half of 2020. Trenching was completed at its east and west sites. The activities of sample collection, magnetometer survey, and initial drilling are going on at the site.
Another of its crucial projects namely the Olympic Gold was acquired by the company in May 2020. It is located at the east-central Mineral Country, Nevada. The location is known to possess high grades of gold and silver. Magnetometer survey is going on at one of its sites. Further action plan will be based on the survey findings.
Stock performance
The company stock (LON: GWMO) has consistently moved up during the year 2020, giving a year to date return of 104 per cent on 15 October. Its 52 week range was noted as GBX 0.08 GBX 0.33.
The year's first peak was achieved on 19 February (GBX 0.16), second on 15 September (GBX 0.22) and third on 28 September (GBX 0.33), ahead of the announcement of its half yearly report for the year 2020.
Outlook
The mining and exploration company is presently targeting three precious metals areas for work during the second half of the year 2020 namely the Mineral Jackpot, Rock House, and the Olympic Gold. Despite a loss, its financial position remained stable and it is funded for all its projects for the year.
It is looking for industry partners with latest technology skills and funding potential to explore large sized copper resources.
Modern technology and equipment can greatly speed up work at the company's un-exploited areas and Great Western Mining is looking out for capable associates in this regard.
The group is fast pacing the exploitation of gold and silver to begin their sale in 2020 itself, which is expected to add to its revenue in the current financial year itself.
With Bank of England reducing the interest rates to a historic low level, the spotlight is back on diverse investment opportunities.
Amidst this, are you getting worried about these falling interest rates and wondering where to put your money?
Well! Team Kalkine has a solution for you. You still can earn a relatively stable income by putting money in the dividend-paying stocks.
We think it is the perfect time when you should start accumulating selective dividend stocks to beat the low-interest rates, while we provide a tailored offering in view of valuable stock opportunities and any dividend cut backs to be considered amid scenarios including a prolonged market meltdown.


CLICK HERE FOR YOUR FREE REPORT!
---
Disclaimer
The website https://kalkinemedia.com/uk is a service of Kalkine Media Ltd, Company Number 12643132. The article has been prepared for informational purposes only and is not intended to be used as a complete source of information on any particular company. Kalkine Media does not in any way endorse or recommend individuals, products or services that may be discussed on this site. Our publications are NOT a solicitation or recommendation to buy, sell or hold the stock of the company (or companies) or engage in any investment activity under discussion. We are neither licensed nor qualified to provide investment advice through this platform.