Summary

Outsourcing and energy services company Mitie Group announced its FY 2021 results today, prompting its shares to rise over 8 per cent.
MTO reported its group revenue rose to £2.560 billion compared to £2.174 billion in FY2020, attributed to the acquisition of its competitor Interserve in December 2020.
UK-based outsourcing and energy services company Mitie Group PLC (LON: MTO), shares soared over 7 per cent in today's trading session after it announced its FY 2021 results, which were better than expected.
FY 2021 earnings
The company reported group revenue of £2.560 billion compared to £2.174 billion in FY2020. The rise was primarily due to the acquisition of rival Interserve Facilities Management (Interserve PLC). The acquisition helped accelerate its value creation as it accumulated up to £6.2 million in cost and revenue synergies during FY 2021.
The company said its cost synergies targets were now raised to £42 million from £35 million previously. And it is expected to be achieved by FY 2023 at the same cost. The company also announced a stronger second half as its revenue growth rose by 6.5 per cent from the previous year.
Also Read: A Deep Dive Into Three FTSE SmallCap Stocks – Mitie Group Plc, Brown (N.) Group Plc and Pendragon Plc
MTO, though reported that its FY 2021 operating profit before other items stood at £63.4 million, lower compared to £86.1 million in the year before. The lower FY 2021 profit was attributed to Mitie Group's revenue mix and having lesser work due to the impact of covid-19.
It also reported a significantly lower average daily net debt to £47.1 million from £327.6 million reported in the year before. The change occurred post International Financial Reporting Standards (IFRS) 16.
Market cheers results
MTO's shares were trading at GBX 77.60, up by 8.23 per cent on 10 June at 14:06 HRS GMT+1, while the FTSE 250 index stood at 22,656.85, down by 0.45 per cent.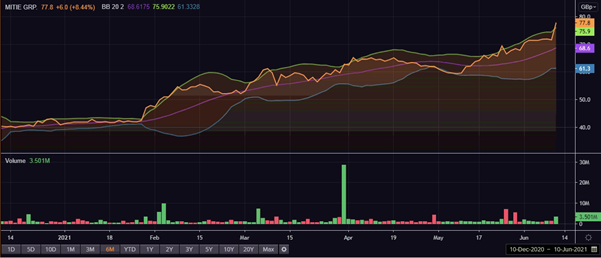 (Image Source: Refinitiv)
It was among one of the highest gainers in the FTSE 250 index. MTO's market cap stood at £
1.022 billion, and its year to date returns were at 89.63 per cent.
Interserve Acquisition
MTO had previously completed the acquisition of facilities management company Interserve PLC in December 2020 after the Competition and Markets Authority (CMA) cleared it for the deal after investigating competition concerns.
The deal was worth up to £120 million in cash, and Interserve received up to 248 million shares in the newly combined company. The shares represented an approximate 17.5 per cent of shareholding in the combined entity.
Also Read: Is Interserve Heading Into Administration?