Summary

Second phase of coronavirus and new mutations seek advanced healthcare supplies.
Vaccine rollout has not affected the demand for test kits and scanning machines.
Manufacturers and distributors of diagnostic solutions are gaining investor attention.
Since the beginning of Covid-19, Pandemic healthcare companies is on investors radar. Right from manufacturers and distributors of drugs, curative devices to healthcare providers, all stocks have gained traction. Even after vaccine rollout by many countries, demand for test kits, surgical and diagnostic tools have not gone down. The second phase of coronavirus and new mutations seeks advanced technologies to quickly diagnose infection. The Healthcare sector is booming with fund inflows and R&D advancements.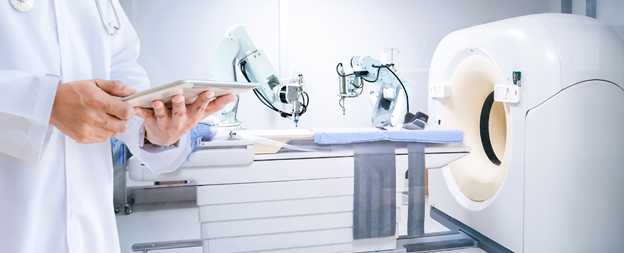 Image Source: © Sompongpnk | Megapixl.com
ALSO READ: Order Covid-19 test kits over a call, no internet required
Acknowledging the present situation and uncertain future, let's turn the spotlight on 5 healthcare stocks -
Surgical Innovations Group PLC (LON: SUN)
It is a company specialising in the design, production and sale of innovative, high quality medical products used in minimally invasive surgery. The group has primary operations in the UK, and a sales network spread across the globe. It manufactures specialist in laparoscopy, bariatric and metabolic surgery.
On 7 May 2021, 9:55 am GMT+1, its stock pegged at GBX 3.45. The stock with a market cap of GBP 32.18 million has given a YTD return of 111.03 per cent.
In its results for the year ended 31 December 2020, released on 25 March 2021, it reported revenue growth of 44% in H2. It also reported a post period revenue surge of 11% in the first two months. It has a positive cash position of GBP 3.10 million for the reported period. The company expects a sharp market recovery in the current Q2 and is well placed to benefit from the backlog in elective surgery cases worldwide.
It is a medical imaging technology corporation. This UK based Company is engaged in identifying imaging devices used in cancer detection. A few of the company's subsidiaries are Feedback Data GmbH, Cambridge Computed Imaging Limited& TexRAD Limited.
On 7 May 2021 09:55 am GMT+1, its' shares were near six months high of GBX 1.28. The stock with a market cap of GBP 13.60 million has given a return of 32.68 per cent in the last 1 year.
In the six months to 30 November 2020 interim results updated on 23 February 2021, it reported a loss after tax of GBP723 thousand. The loss was majorly due to the development and placement of its' top product, Bleepa. Feedback expects to deliver the next key milestones as pandemic imposed restrictions subside.
ALSO READ: 10 Cheap Healthcare Stocks to Ponder Over This Easter
Omega Diagnostics Group PLC (LON: ODX)
It is an AIM-listed medical diagnostics company focused on molecular biology, infective diseases and food intolerance. Its product categories include autoimmunity, hormones, food intolerance, infectious disease, inflammation, and allergy test kits.
The share pegged at GBX 86.00 on 7 May 2021 at 9:59 am GMT+1. The stock with a market cap of GBP 151.55 million has given a return of 53.87 per cent in the last 1 year.
On 30 April 2021, it announced the launch of its' VISITECT® COVID-19 Antigen test for the detection of active infections. The product provides a visual result of an infection in 10 minutes and is in its' commercial roll out phase. The company is waiting for performance approval from the Department of Health and Social Care ("DHSC") in the UK to move to production up to two million tests a week post approval.
Image Scan Holdings PLC (LON: IGE)
It is a specialist entity in innovative X-ray technology. It operates globally in the security and industrial inspection arena. It design, builds and sources portable and fixed X-ray security screening structures for governments, security and law enforcement groups.
Its share, traded at GBX 2.65 GBX on 7 May 21 at 10:01 am GMT+1. IGE Stock trades at a PE of 26.88x, and with a market cap of GBP 3.61 million, it has given a return of 33.84 per cent in the last 1 year.
It released its Interim results for the six months ended 31 March 2021 on 28 April 2021. It reported a revenue of GBP 868 thousand impacted by COVID-19. The company expanded its order book with Asian customer orders. Its strong order book and news business pipeline is expected to give a stronger second half result.
It is a AIM listed company that continuously innovates and supplies imaging products for brain tumor and chronic disease patients. It is currently expanding business with partners, developing innovative Artificial Intelligence (AI) technologies, and eyeing strategic investments via mergers and acquisitions.
On 7 May 2021, 10:05 am GMT+1, its' share was at GBX 7.25. The stock with a market cap of GBP 12.31 million has given a return of 130.45 per cent in last 1 year.
In group's final result for the period ended 31 December 2021, it Announced partnership with AI Metrics, LLC, which has sole global distribution rights to a virtual liver biopsy product. It has Secured a five-year grant from the US National Cancer Institute (NCI) and Obtained Korean FDA (KFDA) market clearance for its software products. The Company is continuously building its intellectual property portfolio and licensing technologies to enhance its competitive positioning.