Summary

Chaarat Gold has entered a new investment agreement with Çiftay, a Turkish mining contractor for its Tulkubash Project.

SolGold Plc reported a director dealing of 300,000 shares of the company.
Gold, since ancient time, has held its investment value, and the present pandemic like situation has raised its importance even more. Precious metal investment has long been considered a smart investment option to protect and grow their money.
The current price of gold on the London Metal Exchange (LME) is hovering at around $1782.40, before the scheduled testimony of the US Federal Reserve Chairman Jerome Powell, who is expected to speak on economic recovery and accelerated inflation which could give some indication about the interest rate hike.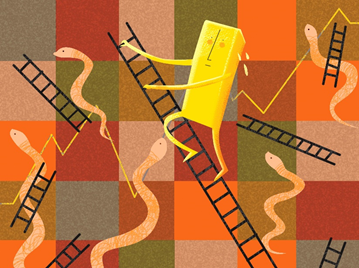 Copyright © 2021 Kalkine Media
As the international gold prices are waiting to take a cue from Jerome Powell's statement, let us take a look at two FTSE listed gold stocks, Chaarat Gold Holdings Ltd and SolGold Plc:
Chaarat Gold Holdings Ltd. (LON: CGH):
FTSE AIM-listed Chaarat Gold Holdings Ltd. operates as a gold mining company that owns and operates gold projects in Armenia, the Kyrgyz Republic and the Tulkubash. The company was founded in 2007 with a focus on disciplined organic growth and selective merger & acquisitions.
Recently, the company announced a new investment agreement with Çiftay, a Turkish mining contractor for its Tulkubash Project. This new investment agreement replaces the existing joint venture agreement with Çiftay, announced on 13 September 2019.
Under the new investment agreement, Chaarat Plc will retain 100% ownership of its two projects, Tulkubash and Kyzyltash. Çiftay will become a strategic investor at the company level, in which Chaarat has agreed to issue US$17.3 million in ordinary shares in three conditional tranches and a maximum cash consideration of US$25 million.
Three conditional tranches and their equity consideration
Tranche 1: US$5 million to be issued on the closure of the agreement, which has a lockup period to 1 January 2022, and the number of shares to be issued will be calculated based on 20-day volume-weighted average price (VWAP) before an announcement by Chaarat on the successful completion of the Tulkubash debt financing.
Tranche 2: US$10.3 million will be issued in 2023 after US$20 million worth of construction work completed by Çiftay, shares issued will have a lockup period between issue and first gold pour, and the number of shares to be issued based on 20-day VWAP prior to work completion.
Tranche 3: $2 million to be issued based on schedule and budget performance criteria with no lockup period. The number of shares to be issued would be based on a 20-day VWAP prior to achieving first gold pour.
The new investment agreement is subject to the below conditions:
The signing of the new agreement is subject to successful debt financing of the Tulkubash Project, which the Chaarat Plc said is in advance stages of discussions with potential financiers.
A new amendment will be signed for the existing construction contracts based on the updated bankable feasibility study.
Share of Chaarat Gold Holdings Ltd. trades at GBX 23.4, down by 1.6% on 22 June at 11:35 am GMT+1 with a market cap of £171 million.
SolGold plc operates in the development and exploration of work-class copper and gold deposits. Its flagship project is in the Northern Ecuador region covering approximately 3,100km². Also, the company holds tenements in Australia and Solomon Islands.
The company has informed about the director dealing in the SolGold shares. A total of 300,000 shares were sold by the Mather Foundation Limited, which has Mr Nicholas Mather as Trustee Director, a Non-Executive Director of SolGold Plc.
The sale proceeds will be used for philanthropic and charitable donations and represent less than 0.5% of the total shareholdings associated with Mr Mather in SolGold.
Today, SolGold Plc was trading at GBX 29.11, up by 0.9% at 11:42 am GMT+1 with a market cap of £672.20 million. In the last 1-year, the stock has delivered a 39.64% return to its shareholders.