Highlights

Weak emission targets are expected to aid European automakers to reach their 2030 target 4 years ahead of schedule.
A further 55 million tonnes of CO2 could be emitted, and 18 million of EV's sales could be impacted if rules remain unchanged.
A relatively weak carbon emissions target set by Europe is expected to see EU based automakers reach their 2030 emissions target by 2026 itself, around 4 years ahead of schedule, according to a report by think tank Transport and Environment (T&E), as shared exclusively with the Guardian.
The report also added that automakers were likely to stick to the minimum requirement of their emission goals, thereby allowing carmakers to produce more petrol- and diesel-powered vehicles.
If current rules remain unchanged, emissions could lead to carbon dioxide pollution of 55 million additional tonnes and hamper the sales of about 18 million EVs.
According to the current regulations, automakers will have to cut their emissions by 15 per cent by 2025 from their 2021 levels and are expected to cut emissions by 55 per cent by 2030.
While the 55 per cent cut is higher than previously expected, the think tank recommended setting an emissions reduction target of 80 per cent, as such a target would put pressure on carmakers to push their current zero-emission vehicle plans.
In view of this, let us take a look at 2 FTSE listed stocks that are not in EV manufacturing but are closely linked to EV manufacturers and explore their investment prospects:
Saietta Group PLC (LON: SED)
AIM-listed company Saietta is an electric vehicle focused British motor design and manufacturing company.
The company recently stated its plans to acquire the e-Traction business unit from Chinese property developer Evergrande Group's auto division, the New Energy Vehicle group.
The deal is expected to be worth up to EUR 2 million (US$ 2.31 million). The deal also included Evergrande waiving off about EUR 21.2 million worth of loans made to e-Traction.
The buyout will help Saietta increase its business plans at a rapid pace.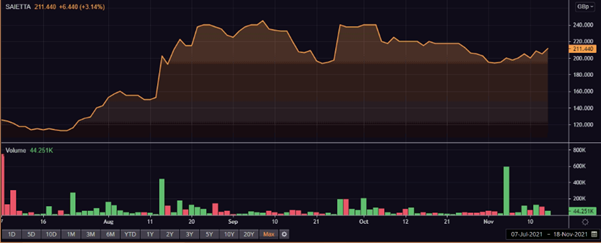 (Image source: Refinitiv)
Saietta's shares closed at GBX 208.50, up by 1.71 per cent on 15 November. The company's market cap was at £177.32 million as of Monday.
Scottish Mortgage Investment Trust (LON: SMT)
FTSE 100 index listed company, Scottish Mortgage Investment Trust, is the flagship investment trust managed by Bailie Gifford & Co, a Scotland based independent investment manager.
The group has a significant holding of EV and EV related companies, in addition to having exposure to biotech and other sectors.
Netherlands based chip equipment manufacturing company, ASML Holdings, is in SMT's top 3 holdings and has a portfolio holding of 5.6 per cent of its total fund size.
SMT's cumulative par net asset value (NAV) as of 12 November was at 1449.40 pence per share.
(Image source: Refinitiv)
Scottish Mortgage Investment Trust's shares closed at GBX 1,497.00 on 15 November. The company's market cap was at £21,315.77 million and a one-year return of 45.06 per cent as of Monday.