UK Market: The UK market tumbled into red after the Bank of England raised the interest rates by another 50 bps, taking it to 2.25%. This is the seventh consecutive hike by the bank, and it has taken the interest rates to the highest levels since November 2008. Investors were also digesting the central bank's warning that the country is already in a recession.
Royal Mail PLC (LON: RMG): Shares of the postal and courier services company fell over 4% after it informed that no agreement has been reached between the company and its workers striking over pay and conditions. It added that it lost approximately £1 million a day in the first quarter.
JD Sports Fashion PLC (LON: JD.): Shares of the sports fashion retailer tumbled over 5% after it reported a decline in profits for the first half of the year. The company's pre-tax profits fell 18% to £298.3 million from £364.6 million in H12021.

J Sainsbury PLC (LON: SBRY): Shares of the grocery retailer jumped over 1% after it agreed to sell 18 stores to a London-listed real estate investment trust LXi REIT in a sale and leaseback deal. The completion of the £500 million deal will depend on the REIT securing equity fundraising.

US Markets: The US market is likely to get a negative start, as indicated by the futures indices. S&P 500 future was down by 66.00 points or 1.71% at 3,789.93, while the Dow Jones 30 future was down by 1.70% or 522.45 points at 30,183.78. The technology-heavy index Nasdaq Composite future was also down by 1.79% or 204.86 points, at 11,220.19. (At the time of writing – 8:48 am ET).
US Market News:
Shares of the consulting firm Accenture (ACN) jumped 1% in the premarket trading session after its quarterly revenue and profits surpassed expectations. However, the company slashed its revenue forecast for the current quarter, citing IT spending cuts by corporate customers.
Shares of the restaurant chain owner Darden Restaurants (DRI) slipped 2.5% in the premarket trading session after it reported in-line quarterly results.
European Indices Performance (at the time of writing):
FTSE 100 Index One Year Performance (as on 22 September)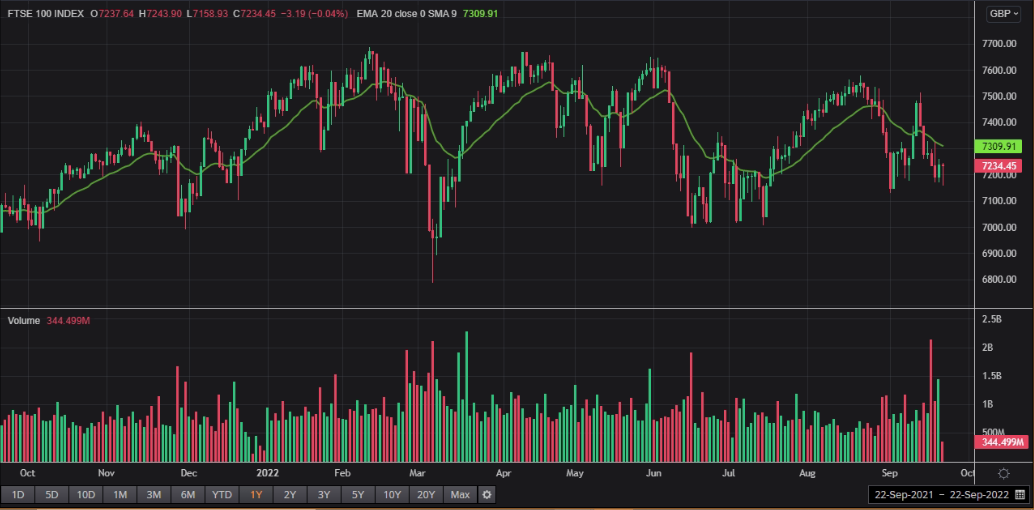 (Source: Refinitiv)
Top 3 Volume Stocks in FTSE 100*: Lloyds Banking Group plc (LLOY), Vodafone Group Plc (VOD), Barclays Plc (BARC)
Top 3 sectors traded in green*: Basic Materials (1.73%), Energy (0.68%), Consumer Non-cyclicals (0.41%)
Top 3 sectors traded in red*: Real Estate (-3.18%), Healthcare (-1.22%), Industrials (-0.99%)
London Stock Exchange: Stocks Performance (at the time of writing):
Crude Oil Future Prices*: Brent future crude oil (future) price and WTI crude oil (future) price were hovering at $91.23/barrel and $84.52/barrel, respectively.
Gold Price*: Gold price was quoting at US$1,681.40 per ounce, up 0.34% against the prior day's closing.
Currency Rates*: GBP to USD: 1.1327; EUR to USD: 0.9881.
Bond Yields*: US 10-Year Treasury yield: 3.548%; UK 10-Year Government Bond yield: 3.415%.
*At the time of writing