UK stock markets are likely to open marginally lower on Monday, 22 February, as market participants remain cautious ahead of the declaration of a potential plan for the exit from the third national lockdown in a phased manner. The ongoing corporate earnings season, macroeconomic data release, and the underlying global jittery have been some of the factors that are likely to dictate the trade set up in the near future.
At the domestic front, the investors are more bound to the forthcoming announcements in the Budget 2021, scheduled to be presented by the Chancellor of the Exchequer Rishi Sunak on 3 March.
Equities remain uncertain
All the major stock indices across Asia traded in the negative region on Monday, barring Japan's Nikkei 225, which gained nearly 0.50 per cent at close. China's Shanghai Composite dropped 1.31 per cent, Hong Kong's Hang Seng shed 0.25 per cent, Australia's ASX 200 declined 0.19 per cent, South Korea's Kospi fell 0.88 per cent, while India's Nifty 50 plunged more than 1 per cent.
The futures linked to the benchmark FTSE 100 traded in negative territory, indicating a lower start to the London equities. The headline FTSE 100 last closed at 6,624.02 with a slight gain of 0.1 per cent, whereas the broader share indices, including FTSE 250, FTSE 350 and FTSE All-Share concluded with a gain of up to 0.50 per cent on Friday last week.
GBP oscillates around 1.40
The Great Britain pound (GBP) hovering at fresh multi-year highs against the United States dollar (USD) have apparently sobered the mood of foreign institutional investors. At around 0713 GMT, the GBP vs USD pair was trading at 1.3990, down 0.17 per cent from the previous close of 1.4014.
During the session so far, the currency pair has shuttled between a broad range of 1.3987 and 1.4052, respectively, at the interbank foreign exchange market. The Bank of England had fixed a reference exchange rate of 1.3947 USD and 1.1553 EUR against a unit of pound sterling on 18 February.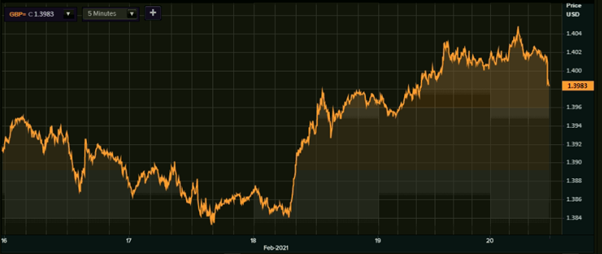 (Source: Refinitiv, Thomson Reuters)
Upcoming signals
Investors have seemingly turned more sceptical in the penultimate week of the month as the present quarter has been quite shaky for the businesses. In the nearly two-month long stretch of the current year so far, most of the enterprises were either forced to narrow down their operations or have to entirely shut a number of outlets/stores in localities that are highly susceptible to coronavirus, adhering to the guidance issued by the government as a part of third national lockdown.
London equities have had an eventful trade in the first 15 days of February. From the third week onwards, the major stock indices pared most of their gains that were recognised in the fortnight. The not-so-positive global cues also played their part in bringing down the euphoria around equities.