US Markets: Broader indices in the United States traded in green - particularly, the S&P 500 index traded 51.35 points or 1.23 per cent higher at 4,217.80, Dow Jones Industrial Average Index surged by 502.47 points or 1.51 per cent higher at 33,792.55, and the technology benchmark index Nasdaq Composite traded higher at 14,125.08, up by 94.70 points or 0.67 per cent against the previous day close (at the time of writing - 12:15 PM ET).
US Market News: The major indices of Wall Street traded in a green zone driven by the banking and oil stocks. Among the gaining stocks, Raven Industries (RAVN) shares surged by about 49.52% after the Company had accepted the takeover bid made by CNH Industrial. ZipRecruiter (ZIP) shares rose by about 7.82% after Goldman Sachs had given a "Buy' investment stance. Pershing Square Tontine Holdings (PSTH) shares grew by about 0.59% after the Company had decided to purchase a 10% stake in Universal Music from Vivendi. Among the declining stocks, MicroStrategy (MSTR) shares plunged by around 7.87% amid a drop in the Bitcoin price after China expanded restrictions on mining.
UK Market News: The London markets traded on a mixed note amid investors' worries regarding rising inflation and the weak performance of mining stocks. According to the report published by a leading property listings website, the average UK house price rose by around 0.8% between mid-May 2021 and early June 2021.
Global Market Round Up || Here Is How Rebound In Energy, Industrial Stocks Lifted Wall Street
FTSE 250 listed WM Morrison Supermarkets shares surged by about 33.88% after the Company had rejected the takeover offer of 230 pence a share from Clayton, Dubilier & Rice, LLC.
Outsourcer Capita had stated that it remained on track to post revenue growth for the first time in the six years as trading performance had shown accelerated improvements during H1 FY21. Moreover, the shares climbed by approximately 7.82%.
Ocado shares went up by around 3.48% after the Company was upgraded by Morgan Stanley to "overweight".
Hotel Chocolat Group shares dropped by around 0.41% after the Company had agreed to take complete control of Rabot 1745 Ltd. joint venture.
European Indices Performance (at the time of writing):

FTSE 100 Index One Year Performance (as on 21 June 2021)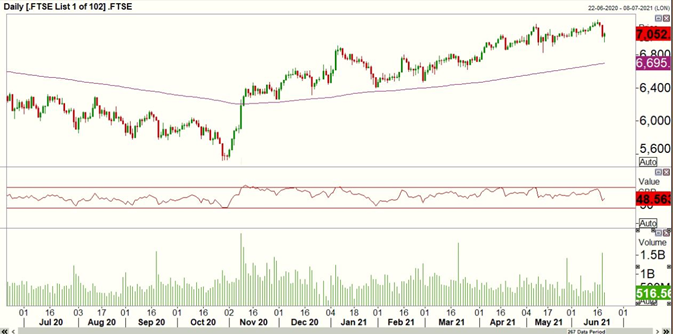 1 Year FTSE 100 Chart (Source: Refinitiv)
Top 3 Volume Stocks in FTSE 100*: Vodafone Group Plc (VOD); Lloyds Banking Group Plc (LLOY); BP Plc (BP.).
Top 3 Sectors traded in green*: Industrials (+1.08%), Consumer Cyclicals (+0.90%) and Basic Materials (+0.88%).
Top 2 Sectors traded in red*: Healthcare (-0.16%) and Utilities (-0.07%).
London Stock Exchange: Stocks Performance (at the time of writing)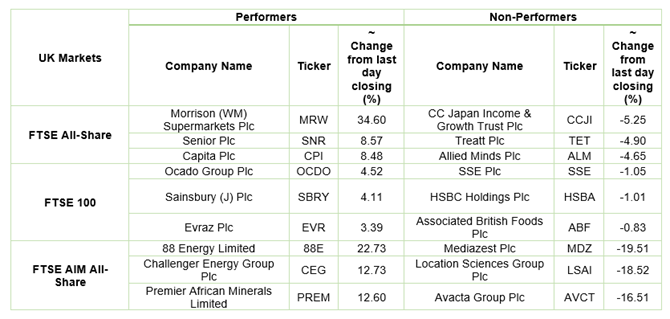 Crude Oil Future Prices*: Brent future crude oil (future) price and WTI crude oil (future) price were hovering at $74.41/barrel and $72.47/barrel, respectively.
Gold Price*: Gold price was quoting at US$ 1,783.45 per ounce, up by 0.82% against the prior day closing.
Currency Rates*: GBP to USD: 1.3932; EUR to GBP: 0.8553.
Bond Yields*: US 10-Year Treasury yield: 1.479%; UK 10-Year Government Bond yield: 0.7730%.
*At the time of writing