UK Market: The UK stock market has made a bounce back on Tuesday, covering some lost ground from the last session's plunge. The benchmark FTSE100 index is up by 0.78%, led by the banking stocks. The major banking stocks were amongst top gainers amid anticipation of an interest rate hike by the Bank of England in its next policy meeting on 3 February 2022.
Novacyt S.A. (LON: NCYT): Shares of the clinical diagnostics service provider were down by over 18%, with a day's low of GBX 189 after the company announced its business update for the year ended 31 December 2021. The share price was down after the company reported a decline in revenue at £95.8m (FY2020: £277.2m).
Amur Minerals Corp (LON: AMC): Shares of the metal and mining company was up by over 88%, with a day's high of GBX 4.40 after the company announced that it plans to sell its wholly-owned subsidiary, Irosta Trading Limited, to a potential buyer at an indicative price of close to £100 million.
Reach Plc (LON: RCH): Shares of the media company were up by over 5%, with a day's high of GBX 254.50. The stock saw buying interest after the last session's fall of over 11%. The share price made a slow start to the new year and is down by around 11% in January month so far.
US Markets: The US markets, after witnessing a strong rebound in the last session, could see some profit-taking, as indicated by the futures indices and with Fed's two-day meeting starting Tuesday. S&P 500 future was down by 70 points or 1.61% at 4,333, while the Dow Jones 30 future was down by 0.77% or 263 points at 33,991. The technology-heavy index Nasdaq Composite futures was down by 2.01% at 14,207 (At the time of writing – 8:50 AM ET).
US Market News:
The shares of the Zions Bancorporation (ZION) rose by 1.1% in premarket trading after the company beat the market estimates and reported solid business performance in the last quarter.
Shares of General Electric (GE) declined by 2.8% after reporting lower revenue in the fourth quarter result. However, the company anticipates recovery with improved cash flow in 2022.
Shares of the telecom equipment maker, Ericsson (ERIC), was up by 5.5% in premarket after the company reported robust business performance and higher quarterly earnings. The company's business was positively impacted following the rollout of the 5G network in different countries.
European Indices Performance (at the time of writing):
FTSE 100 Index One Year Performance (as on 25 January 2022)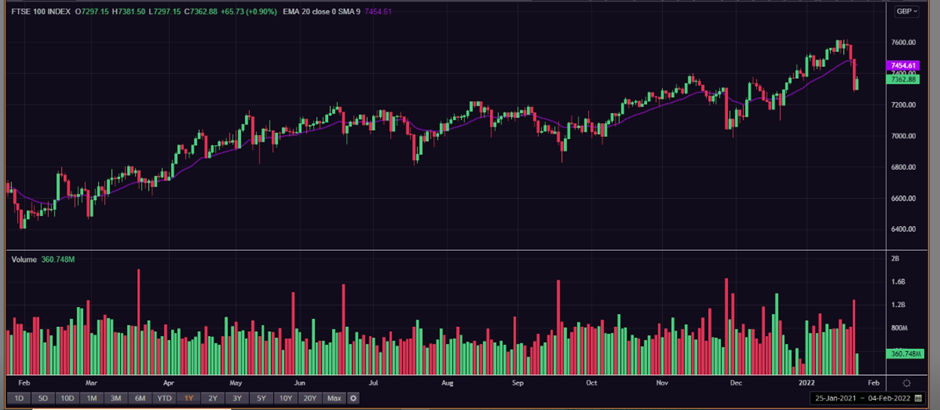 (Source: Refinitiv)
Top 3 Volume Stocks in FTSE 100*: Lloyds Banking Group plc (LLOY), Vodafone Group Plc (VOD), Rolls-Royce Holdings Plc (RR.)
Top 3 Sectors traded in green*: Energy (2.92%), Financials (2.42%), Basic Materials (0.80%)
Top 3 Sectors traded in red*: Consumer Non-Cyclicals (-0.20%), Industrials (-0.18%), Utilities (-0.17%)
London Stock Exchange: Stocks Performance (at the time of writing)
Crude Oil Future Prices*: Brent future crude oil (future) price and WTI crude oil (future) price were hovering at $85.67/barrel and $83.45/barrel, respectively.
Gold Price*: Gold price quoted at US$ 1,838 per ounce, down by 0.15% against the prior day closing.
Currency Rates*: GBP to USD: 1.3463; EUR to USD: 1.1271.
Bond Yields*: US 10-Year Treasury yield: 1.765%; UK 10-Year Government Bond yield: 1.1730%.
*At the time of writing