Highlights

Value stocks tend to do well amid high-inflation periods.
Stats NZ annual inflation has been recorded at 4.9% in September this year versus pcp.
Heartland Group is organising its Annual Meeting on 28 October.
Stocks trading at less than price relative to their fundamentals, healthy dividend yields, low P/B and P/E ratios can be termed as value stocks. Value stocks are known to be performing better during a high-inflation period.
As per the latest data of Stats NZ, the annual inflation has been recorded at 4.9% in September this year versus pcp. The current annual movement is being touted as a major one as the inflation of this level was last seen amid June 2010-2011 quarters when it reached 5.3%.
On the given backdrop, we have zeroed on 4 NZX-listed value stocks. Let's get apprised of them.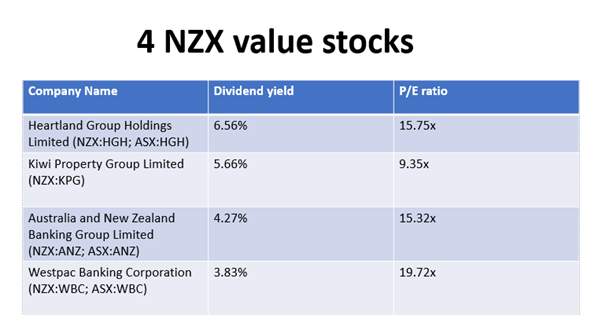 Image source: © 2021 Kalkine Media New Zealand Ltd, data source- Refinitiv
Heartland Group Holdings Limited (NZX:HGH; ASX:HGH)
With operations in both AU and NZ regions, financial services company Heartland Group Holdings Limited last traded flat at NZ$2.33, on 19 October.
The Company has notified the market about its only virtual Annual Meeting, scheduled to be held on 28 October online because of the COVID-19 alert level status in NZ.
Why these 4 NZX value stocks are worth following in October
The stakeholders would be expected to give their stakeholders number for the verification process. They would be enabled to look at the presentation and cast their votes on resolutions and even raise queries via the online platform.
Related article; Heartland Group (NZX:HGH) reports NPAT of NZ$87 million in its FY21 annual report
Kiwi Property Group Limited (NZX:KPG)
Functional for 25 years now, Kiwi Property Group Limited is in the know-how of investment and asset management. On 19 October, Kiwi Property ended the trading session at NZ$1.155, higher by 0.43%.
A few days ago, Kiwi Property notified the market that it had given its consent to purchase 385 Mt Wellington Highway, located next to Sylvia Park Lifestyle, in Auckland city for an amount of NZ$27.5 million. The deal is set to be finalised by 24 June next year.
Also read; Kiwis continue to buy high-end properties, most expensive house sold for NZ$24m
Australia and New Zealand Banking Group Limited (NZX:ANZ; ASX:ANZ)
Multinational bank domiciled in Melbourne, Australia and New Zealand Banking Group Limited, ended the trading session on 19 October, declining by 0.07% at NZ$29.54.
On 11 October, the Banking Group announced Farhan Faruqui had joined it as the Chief Financial Officer.
Westpac Banking Corporation (NZX:WBC; ASX:WBC)
Another banking and financial services group, Westpac Banking Corporation, is based in Sydney.
Last week, the Company notified that its net profit and cash earnings in 2H21 would be lessened by AU$1.3 billion (after tax) because of notable items.
Some of the notable items comprised AU$965 million (write-down of assets) in Westpac Institutional Bank. Apart from that, further provisions for consumer refunds, related costs, etc., of AU$172 million.
On 19 October, Westpac Banking closed the day's session marginally down by 0.04% at NZ$26.78.
Did you read; Westpac cuts fee for KiwiSaver scheme to help people reach their investment goals
Bottom Line
Value stocks are generally long-term investments which call for a cautious stock range, and the patience to stick to the stock for a longer duration is a pre-requisite.