Source: ESB Professional, Shutterstock
As the market players are aware, the outbreak of COVID-19 impacted several sectors. Lockdowns were imposed so that the spread of COVID-19 can be restricted. As a result, the impact was also felt on several companies as the operations suffered. However, now some companies might perform well moving forward. This company has decent balance sheet which could help it in navigating tough conditions and in meeting long-term growth objectives. The stock price of this company increased by ~19.7% in the time span of 1 month and ~8.75% in 3 months. However, over the last 6 months, this stock rose by ~35.2%.
Scott Technology Ltd
Summary
SCT declared an interim (unimputed) dividend of 2.0 cps.
The company is witnessing significant progress on its Scott 2025 strategy and it had cash in bank of $6.2 Mn as at 28th February 2021.
Net profit after tax amounted to $4.7 Mn for the six months, which was significantly ahead of pcp.
Scott Technology Ltd (NZX: SCT) is engaged in the designing and manufacturing of advanced automation systems which are focused on improving productivity.
Unaudited Interim Results For the Six Months Ended 28th February 2021 (H1 FY 2021)
H1 FY 2021 revenue amounted to $104.5 million, reflecting a rise of 5% than the prior comparative period (pcp) as the company's strategy of more revenue from the proven systems, product as well as service delivers revenue growth.
However, the Covid-19 impact as well as the effect of Brexit in Europe dragged the revenues from the USA and Europe regions.
The company stated that improvement in the revenue as well as the significant right sizing program posted an improvement of 28% in gross margins to 23%. Notably, the right sizing program also made the significant contribution to the growth in EBITDA, with overhead cost reduction falling $4.1 Mn, implying a drop of 25 percent versus H1 FY 2020.
The company has recoded net profit after tax of $4.7 million as compared to the net loss after tax of $13.7 million in H1FY20.
Meanwhile, the board has declared an unimputed interim dividend of 2.0 cents per share which will be paid on 10th May 2021.
Read: Why Did These 5 NZX Stocks Gain Or Lose Today? - NTL, RAK, SCT, MWE, RYM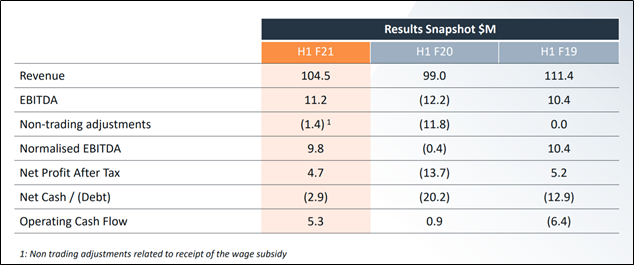 Financial Snapshot (Source: Company Reports)
SCT Bagged Further Multi-Million-Dollar Contract
On 13 April 2021, the company updated that it has bagged further multi-million-dollar contract within the meat industry to design as well as build the lamb boning system for one of Australia's leading meat processors, Thomas Foods International.
As per the release, the $10 Mn investment by TFI would be delivering improved product quality as well as increased yield of high value cuts. The system uses advanced x-ray and vision technology in order to deliver the high accuracy of cutting, while also bringing significant developments in the safety and health by removing much of the heavy cutting activities.
Also Watch: Why These 5 NZX Stocks Are Making Waves - TWR, SCT, PHL, ARV, MWE? | NZ Market Update
Decent Balance Sheet Strength
SCT has a decent liquidity position with cash in the bank of $6.2 million as at 28th February 2021. Further, at $2.9 Mn, the company stated that its net debt was stable relative to FY 2020 year-end position. As the business grows, the company's requirements of working capital would be increasing. In order to further support its growth, it has concluded an upgraded bank facility with the existing provider.
Decent Progress in Scott 2025 Strategy
The company is witnessing significant progress on its "Scott 2025" strategy which focuses around authentic customer partnerships along with delivering operational excellence, harnessing leading edge technology, one global team and robust growth platforms.
As a step forward, the company bagged repeat business across all sectors in terms of authentic customer partnerships. Further, it has garnered sustainable improvement in margin throughout its regions.
It witnessed growth across all standard products in terms of leading edge technology. Besides, it has manged to reduce lost time injuries and it maintained emphasis towards employee retention, development as well as wellness.
Key Information (Source: Company Reports)
Stock Information
Despite uncertain investment atmosphere globally, the company is witnessing positive recovery forward work.
The company highlighted that the momentum of forward work continues to solidify and the product business has firm order books. The company stated that new business is being sourced with the improved margin.
The company is maintaining robust focus towards protecting the employees at the time of travel as the world slowly begins to open up to the international travel. The company also mentioned that there has been increased interest in the automated solutions primarily in the meat processing as well as food and beverage sectors.
On April 16, 2021, the company's stock price ended the trading session in green as there was a rise of 1.16% to NZ$2.610 per share. The market capitalisation of the company stood at ~$204.392 million.