As we know that the global stock markets were impacted by the outbreak of COVID-19. There have been announcements with respect to stimulus packages so that the economies can revive. However, there are some companies which managed to perform well amidst challenging operating environment. This company is having a robust balance sheet and has respectable cashflow generation from the operating assets. The stock of this company has delivered a return of ~37.08% in the span of previous 3 months. However, in the time frame of past one year, the stock rose by ~51.75%.
Tilt Renewables Ltd
Summary:
With investments in the Dundonnell as well as Waipipi wind farm construction projects and then strategic divestment of the Snowtown 2 Wind Farm, TLT is having a market capitalisation which is comparable with several well-known listed companies on NZX.
For the 6 months ended September 30, 2020, net profit from continuing operations witnessed a rise of 125% on the YoY
With healthy liquidity profile on its books coupled with its long contract and healthy asset quality, it may tap further growth opportunities as well as improve its generation capacity to further strengthen its presence in the renewable space.
Overview
Tilt Renewables Ltd (NZX: TLT) is one of the leading companies in renewable energy space. In the month of October 2016, TLT was provided with an opportunity to tilt the renewables industry as well as embrace the technological changes.
The company is having a pretty well-diversified customer base as visible in Figure 1 below:
Figure 1: Well-diversified customer base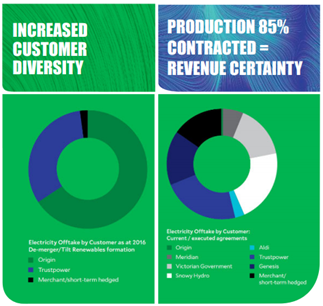 Source: Company Reports
Robust balance sheet strength
TLT boasts of strong balance sheet with healthy cashflow generation from operating assets. This is evident from A$271Mn of unrestricted cash available to pursue growth opportunities at the end of 31st March 2020 and also no debt refinancing until the month of November 2023.
The company's total debt witnessed a fall of A$406 Mn across FY 2020. Notably, reduced debt as well as A$229 Mn of cash resulted in the low balance sheet gearing of 12 percent, that ignores A$450 Mn of the financial assets.
Figure 2: Debt Maturity Profile
Source: Company Reports
Annual Performance
While FY 2020 EBITDAF result is down on the previous year, the company stated that the result was above expectations when normalised for SWF2 sale in the month of December 2019. For the 12 month to March 31, 2020, the company's EBITDAF stood at A$117.5 Mn.
The company's operational assets (excluding SWF2) produced 1,204 GWh, 2.9% more as compared to the previous year. The Board of the company, which is aware that TLT is focused towards further investment opportunities, decided not to pay final dividend.
Recent Updates
Infratil has recently advised that it plans to undertake the strategic review of shareholding in Tilt Renewables Limited. As per the release, Infratil received numerous enquiries in relation to the Tilt shareholding. Considering robust demand for the high quality renewables platforms globally, Infratil has considered it is prudent to evaluate alternatives for Tilt shareholding, which includes divestment of the position.
In the release dated December 9, 2020, TLT has noted that AustralianSuper approached IFT proposing a scheme for the acquisition of 100% of IFT. In the response rejecting the proposal, IFT has stated that this proposal undervalues the significant renewable energy as well as digital infrastructure platforms which are held by Infratil and contained material conditions. Considering the Infratil's rejection, there are currently no implications for Tilt Renewables Limited.
Change in Asset Mix Weighed on H1 FY 2021 Performance
The company's H1FY21 performance was weighed down by the transition in its portfolio due to the sale of SWF2 in December 2019 as well as without the full contribution from 2 large projects in construction. Resultantly, revenue declined by 45.9% YoY and stood at A$56.0 Mn.
Total group production stood at 813 GWh. When normalised for SWF2 sale, the production from fully operational assets was down by 28 GWh or 5 percent on HY 2020. On the bright side, the commissioning of Dundonnell has led the company to witness additional production of 233 GWh, leading to overall increase by 33.5% YoY. In the month of July 2020, the company managed to return A$258 Mn to the shareholders with the help of a share buyback scheme, utilising some of the proceeds from sale of SWF2 last year.
Macro environment seems encouraging
In Australia, the period of relative political stability enabled policy discussion to tend towards the technical, regulatory as well as market amendments required to accept more renewables into energy mix and encourage the supply of system strength, frequency keeping as well as other ancillary services.
The pandemic has delayed progress in several areas, however, overarching sentiment is targeted towards adapting to the higher renewables penetration.
Additionally, factors such as increasing debates on a hydrogen economy coupled with boosting the transmission space, wider adoption of domestic gas as well as Federal Government investment in pumped hydro are all directed towards improved demand for electricity, which augurs well for the renewable energy sector as a whole.
Outlook
TLT stated that HY 2021 operating cash flow was negligible (slightly negative) and the cash conversion was lower in the half because of Dundonnell delays, timing of tax instalments as well as LGC receipts.
The company has reconfirmed updated FY 2021 EBITDAF guidance range of A$65 Mn- A$80 Mn. For the 2H FY 2021, the company stated that Dundonnell production ramp-up is expected to accelerate when 226 MW hold point is achieved. Notably, once fully commissioned, it has been anticipated that Dundonnell would be contributing ~A$50 Mn EBITDAF as well as ~A$25 Mn free cashflow after debt service annually.
Stock Information
On December 11, 2020, the stock of TLT ended the trading in red as there was a decline of 2.54% on an intraday basis.