Highlights

Penny stocks are low-priced stocks of small companies.
MOVe Logistics expects the economic recovery to propel demand, but supply constraints could hamper growth.
Penny stocks are shares of small companies trading publicly at a low price. These stocks usually have a market capitalisation of less than $300 million. However, an investor must be careful while investing in penny stocks as they have high volatility and low liquidity. These companies also lack a track record of its products, assets, operations, etc., that can make investing in them risky.
Let's have a look at how these NZX-listed penny stocks have been doing in Q4 of this year.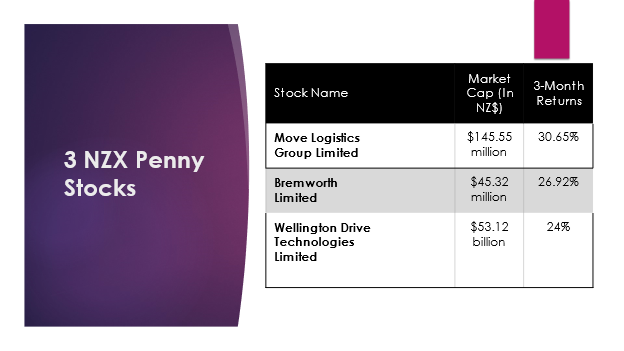 Image source: © 2021 Kalkine Media New Zealand Ltd, Data source- Refinitiv
MOVe Logistics Group Limited (NZX:MOV)
MOVe Logistics, NZ's freight and logistics group, released its annual report for FY21 on 30 September 2021. MOVe posted a 6% rise in revenue to $353.2 million and a 7% rise in EBITDA numbers to $61.3 million in FY21.
Four out of the five MOVe's divisions produced increased revenue and EBITDA, with a slight decline in the international division, which was affected by supply-chain headwinds and COVID-19 restrictions. MOVe expects a continued economic recovery in NZ to drive demand, however, some supply constraints can hamper growth.
RELATED READ: Which are 5 NZX penny stocks worth exploring in October 2021?
On 30 September 2021, MOVe announced that Lorraine Witten would be the Chairman of the Group.
MOVe ended the day 1.91% in green to close at $1.6.
Bremworth Limited (NZX:BRW)
Bremworth has a wool carpet and rug business in NZ. Bremworth grew its retail distribution network mainly in Australia, rolled out new colour options and introduced a notable brand approach in H2 of 2021.
The Group began FY22 by changing the company name from Cavalier to Bremworth while also making the decision to stop selling wool carpets and grow demand for wool carpets.
DO READ: Which are 5 NZX stocks with a high dividend yield in October?
BRW declared that Rachel Walsh would be the new independent Director effective 8 October while also taking up the position of the Chairman of the Audit Committee.
BRW ended the day flat to close at $0.8.
Wellington Drive Technologies Limited (NZX:WDT)
An IoT solutions and cloud-based fleet management provider, Wellington Drive, announced that 3 million ECR 2s had been rolled out till 30 August from the production line. The motor has the ability to handle a range of commercial refrigeration applications and is used by food brands, supermarkets, cool and medical refrigeration manufacturers.
RELATED READ: Are these 5 high-growth technology shares on NZX?
WDT's energy-efficient technology has saved more than 18.6TWh of energy, equal to fuel global energy obligations for about 6.5 hours.
WDT ended the day 7.14% in green to close at $0.15.
Bottom Line
Investors must invest in penny stocks carefully considering their speculative and risky nature.
(NOTE: Currency is reported in NZ Dollar unless stated otherwise)