Highlights

Penny stocks are often equipped with huge potential, may surpass some of the big mid-cap and large-cap stocks.
ArborGen Holdings to sell its NZ and AU businesses and deploy sale proceeds in other growth markets.
Geneva Finance to pay an interim dividend next month.
Penny stocks, when chosen and invested wisely, can help grow the invested money at a quick pace. Often, hugely popular among small investors and new entrants to the stock market, these penny stocks require patience and may become multibaggers in the long run.
With this overview, let us explore the five NZX-listed penny stocks which can shine in 2022.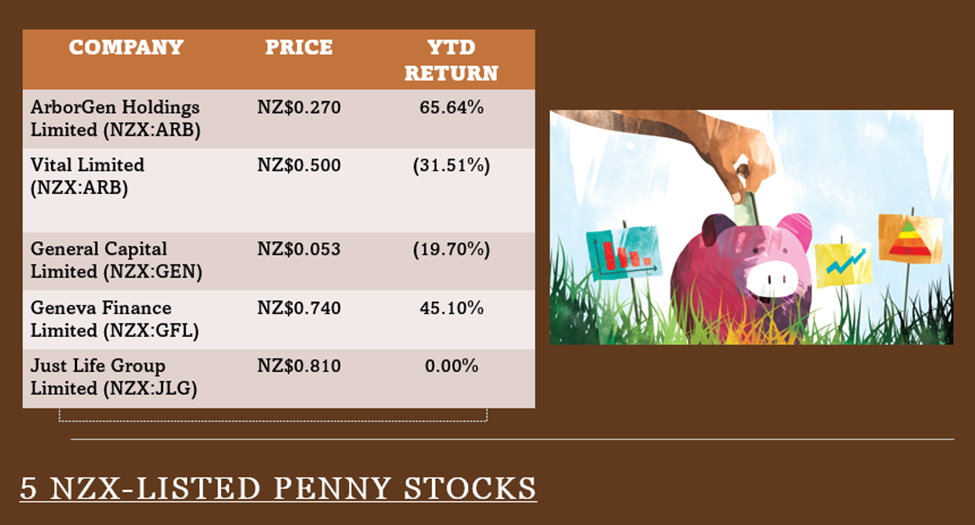 Image source: © 2021 Kalkine Media New Zealand Ltd, data source- Refinitiv
ArborGen Holdings Limited (NZX:ARB)
New Zealand's globally acclaimed supplier of advanced forestry seedlings is ArborGen Holdings Limited. After a strategic review of its overall businesses, ARB has decided to sell its New Zealand and Australian businesses to Geyser Limited Partnership for NZ$22.25 million.
Related Read: 5 NZX stocks with highest YTD returns that can be explored
The purchase transaction would be completed on 30 November and sale proceeds would be deployed in higher-performing markets of the US and Brazil and ARB will also explore investment in new growth areas.
Which 5 NZX penny stocks have the potential to skyrocket in 2022
On 18 November, at the time of writing, ArborGen Holdings declined by 1.85% at NZ$0.265.
Vital Limited (NZX:VTL)
Vital Limited is one of the prime providers of communication networks across NZ. In its recently held Annual Meeting, VTL's shareholders voted in favour of the election of its retiring directors as well as authorised its Board to fix its auditor's fees for the forthcoming year.
Moreover, the Company's outstanding performance, despite being affected by COVID-19 impacts, was highlighted in the meeting, wherein VTL experienced growth both in its revenue and profit for FY21.
On 18 November, at the time of writing, Vital was trading flat at NZ$0.500.
Also Read: Would these 5 NZX penny stocks take the market by storm in 2022?
General Capital Limited (NZX:GEN)
General Capital Limited is a well-known company offering financial services in Kiwiland. It had announced that Equifax Australasia Credit Ratings had affirmed BB-credit rating for its subsidiary, General Finance Limited.
Interesting Read: What are 5 small-cap NZX stocks examples?
A strong credit rating outlines a stable outlook of the business and would help the management to remain focused on earnings growth and maintain a strong balance sheet.
On 18 November, at the time of writing, General Capital was trading down by 1.89% at NZ$0.052.
Geneva Finance Limited (NZX:GFL)
Another company operating in the financial sector is Geneva Finance Limited. Owing to a strong performance of its support functions like IT and finance, GFL expects a 16.4% rise in its pre-tax profit for the half-year period ended September 2021.
Do Read: Which are top 5 NZX shares by price movement?
Hence, it has approved an interim dividend of 1.25 cps to be paid on 21 December.
On 18 November, at the time of writing, Geneva Finance remained unchanged at NZ$0.740.
Just Life Group Limited (NZX:JLG)
Just Life Group Limited is a pioneer in providing clean drinking water to New Zealanders. It has declared a final dividend of 1.4 cps, underpinned by an increase of 13% and 7% in its net earnings and operating revenue, respectively.
Must Read: Which are the best 15 NZX penny stocks worth exploring?
The said dividend will be distributed on 7 December.
On 18 November, at the time of writing, Just Life Group was trading up by 6.17% at NZ$0.86.
Bottom Line
Wise and careful stock analysis might turn volatile and risky penny stocks' investments into a big fortune.