Summary

Penny healthcare stocks are volatile, focused on lifting R&D, and centring towards clinical advancements.
Medical cannabis player Cannasouth entered a service agreement with leading US cultivation company, EAH Enterprises LLC, trading as Vera Cultivation in the US.
Green Cross Health's operating profit for FY2020 stood at ~NZ$31.0 million, up by 5.4%. The Community Health division drove the performance.
Penny stocks in the healthcare domain are creating a niche for themselves with the potential to grow much faster than large-cap stocks. While NZX blue chips like Fisher & Paykel Limited (NZX:FPH) and Ebos Group Limited (NZX:EBO) may be prominent in the healthcare sector, there are still a lot of unaddressed markets for other NZX-listed companies to capture. With a significant market potential, market participants are keeping an eye on such players.
Penny stocks are volatile in nature, and micro-cap healthcare stocks are the most volatile for some good reasons. Healthcare stocks have everything to do with the speculative nature of the companies themselves. Some healthcare penny stocks have performed well amid the pandemic that has created multiple opportunities for the sector.
However, before looking to add healthcare penny healthcare stocks in their portfolio, investors should check the following parameters:
Product Pipeline- If there are multiple products in the pipeline that are at different stages of clinical development, it lowers the risk for the Company as there is a possibility one of the candidates might come to market.
Partnerships with Pharmaceutical giants- Marketing and distribution is a critical process for companies. Thus, a partnership/collaboration with a prominent healthcare player goes a long way in ensuring that the approved product reaches the maximum number of patients possible, ensuring improved top-line for the small player.
What treatment/drugs Company provides- Before investing in a healthcare penny stock, one must make sure the Company is developing a unique, novel drug, or therapy.
Financials- For a penny stock, it is imperative to look at the cash on hand as a vital metric as it indicates whether the Company meet its commitments.
ALSO READ: Pros and Cons of Investing in Penny Stocks
With this backdrop, let us acquaint you with 3-NZX listed healthcare stocks-
Cannasouth Limited Joins Forces with EAH Enterprises LLC
Healthcare Company Cannasouth Limited (NZX:CBD) is engaged in the commercial development of medicinal cannabis compounds such as Cannabidiol (CBD), THC and other related chemical constituents present in the cannabis plant.
On 21 July 2020, Cannasouth, through its joint venture subsidiary Cannasouth Cultivation Limited (CCL), entered a service agreement with leading US cultivation Company EAH Enterprises LLC, trading as Vera Cultivation.
Vera Cultivation is a market leader in the manufacturing of superior-quality cannabis formulations by using world-class and proprietary growing systems.
This agreement is to supply services to finalise the design of the cultivation facility of CCL, develop operating systems along with procedures. Moreover, the agreement helps with the speedy and successful implementation of cultivation of Cannasouth state-of-the-art developing facilities.
DO READ: Bellwether for Cannabis Stocks: A Lens on Developments of Cannasouth Limited
The deal supports a significant milestone for Cannasouth for meeting its business goals, including the production of affordable, next-generation, New Zealand grown and manufactured pharmaceutical-grade medicinal cannabis formulations for patients in New Zealand as well as export markets.
Cannasouth CEO Mark Lucas stated-

Stock Information: At the end of the trading session on 17 August 2020, CBD share price stood at NZ$0.600, up by 7.14% from its previous close. The market capitalisation of Cannasouth was NZ$72.793 million.
Abano Healthcare Group Provided Trading Update for July 2020
NZX-listed Abano Healthcare Group Limited (NZX:ABA) is the owner of one of the largest dental groups in the NZ$12 billion trans-Tasman dental market. The Group operates through its two brands Lumino The Dentists in New Zealand and Maven Dental Group in Australia. Abano employs more than 2.3k people in more than 239 dental practices.
Given the uncertain market conditions amid COVID-19, on 9 July 2020, Abano Healthcare provided a market update for July 2020.
As the Company earlier advised, it is anticipated that the business will make a recovery to pre-COVID-19 earnings levels over time. However, clarity cannot be given on how much time this recovery will take. Since reopening in May 2020, the dental networks have remained to recover sharply and are performing ahead of anticipations.
For June 2020, Lumino's same-store revenue was ~113% of the pcp, with Maven at nearly 98%.
Performance of Maven reflects some impact from social distancing requirements still in force in Australia.
Forward bookings for both Lumino and Maven, for the upcoming two months, are ahead of where they were at the same point a year ago.
The net debt of Abano Healthcare on 30 June 2020 was nearly NZ$124.4 million, with existing facilities at NZ$169 million.
Abano Healthcare Group has six practices in the restricted region which deliver less than 0.5% of Group's annualised revenue. The Company stated that even if these practices were to shut down for six weeks, this would equate to almost A$1.2 million of Abano's forecasted revenue.
Notably, the Company is working on priority to deliver better financial performance as well as an increased return on invested capital.
Stock Information: On 17 August 2020, ABA share price was NZ$2.610 at the end of the session, up by 1.95%, with a market cap of approximately NZ$68.597 million.
Green Cross Health's Profit Rose 5.4% to NZ$31.0 in FY20
New Zealand-based primary healthcare provider Green Cross Health Limited (NZX:GXH) offers its services to communities across the country. The Company provides assistance, care as well as advice to its communities vai several pharmacies, medical centres, and community health services.
On 24 July 2020, Green Cross Health updated the market with its annual report for the financial year 2020 (ended 31 March 2020) on NZX. Highlights from full-year report are:
Green Cross Health's operating profit stood at nearly NZ$31.0 million, climbing by 5.4%.
For FY20, revenue was reported at ~NZ$569 million.
The balance sheet of the Company has solid liquidity, that would let it pass through the upcoming period, with challenges arising from the ongoing COVID-19 crisis.
Medical revenue of the company increased NZ$76.5 million by 8.5%, and operating profit reported at NZ$8.0 million rose by 81.1%, indicating organic revenue growth.
Pharmacy division revenue dropped by 1.1%, and operating profit of Pharmacy division fell by NZ$4.8 million to NZ$22.5 million.
Green Cross Health's Community Health division reported a considerable rise in operating profit to NZ$2.5 million, a growth of NZ$2.4 million on pcp.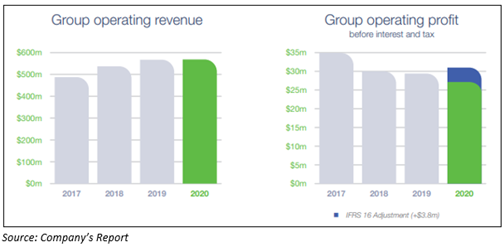 Notably, Green Cross Health is well-positioned to consider acquisitions over the medium term selectively.
DO READ: Are there any Rock-solid NZX-listed Healthcare Stocks? A lens on AFT, FPH, GXH
Stock Information: On 17 August 2020, GXH share price was NZ$1.030 at the end of the session, up by 0.98% from its last close. The market cap of the Company was NZ$147.447 million.