Highlights

NZR announced raising $43.5 million to fund private storage services.
The equity raise will be undertaken through a $38.5-million share placement and $5-million share purchase plan.
NZR's shares were also put under a trading halt at the request of the Company by NZ RegCo.
The New Zealand Refining Company Limited (NZX: NZR) is a dealer of refined petroleum products.
The Company announced its equity raising plans on Monday to raise nearly NZ$43.5 million to finance Private Storage Services and those under negotiation. The Company will be renamed Channel Infrastructure NZ once import terminal operations begin from April 2022.
The Company had provided an update on 22 November regarding the execution of long-term agreements. These agreements were done to deliver dedicated private storage to develop NZR further than the shared Import Terminal System (ITS), with further prospects under discussions.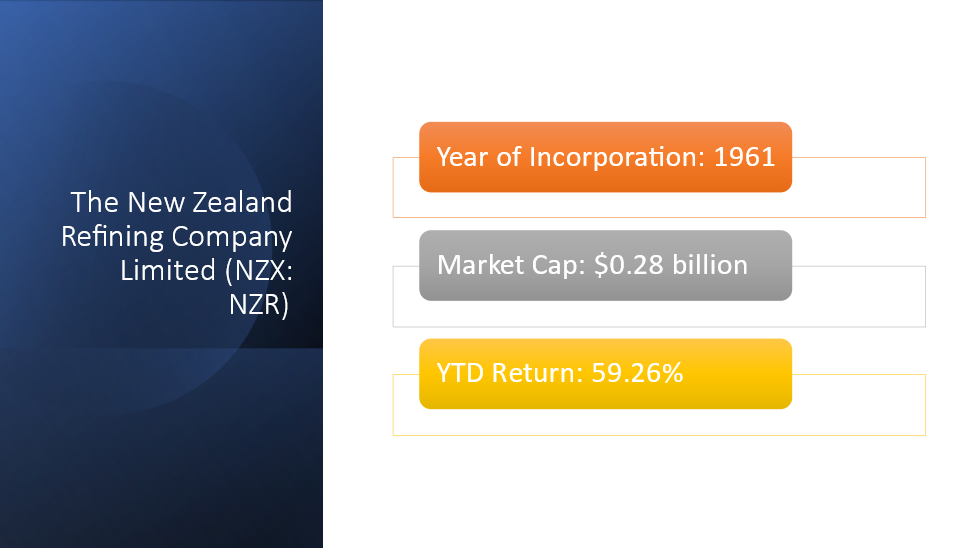 Image source: © 2021 Kalkine Media, Data source- Refinitiv
NZR called private storage a complementary growth opportunity, which offers customers an enhanced product supply range and flexibility.
ALSO READ: Refining NZ confirms to turn into import-only facility by April 2022
The contracted private storage capacity will need a preliminary capital pledge of about $30 million and is likely to deliver a revenue of about $50 million over a 10-year term.
The Company is also vigorously involved with customers on additional prospects for private storage. This would need an additional investment of nearly $25 million and bring in a revenue of nearly $60 million.
Capital Raising and SPP
NZR's capital raising will be undertaken via a $38.5-million share placement (underwritten) and a $5-million share purchase plan (non-underwritten).
DO READ: Crude oil recovers after crashing more than 10% on Friday
Nearly 47 million shares will be issued under the Placement. These shares will be issued at a price to be defined all through the bookbuild process on Monday, subject to a floor price of $0.82 per share.
SPP will open on 2 December 2021.
NZR shares put under a trading halt
NZR advised on Monday that NZR's shares and quoted notes ("NZR010") had been put under a trading halt during the pre-market opening on 29 November. The trading halt comes as NZR undertakes the placement part of the capital raising plan.
ALSO READ: Which 5 NZX dividend stocks under NZ$5 to consider in 2022?
The trading halt will remain in place until an announcement on the placement completion or as the market opens on 30 November 2021.
NZR ended the day flat at $0.88.
Bottom Line
NZR is undergoing change, altering from the refining business to the infrastructure business.
(NOTE: Currency is reported in NZ Dollar unless stated otherwise)