Highlights

As per the property data leader's latest information, resale gains on houses have made a record high.
Argosy would be releasing its 1H22 results for the cycle closed September this year on 23 November.
Kiwi Property would publish six-month results for the period closed September on 22 November.
Earlier this month, the RBNZ published Governor Adrian Orr's speech related to the unsustainable level of house prices posing monetary and financial stability challenges.
His speech laid emphasis on the RBNZ caring about the level and causes of house prices. The speech also contemplated on the solution towards promoting better functioning of the housing market, resulting in more sustainable house prices over a period.
Of late, property data leader CoreLogic has published a price comparison, reflecting 99.1% properties resold in the quarter closed September gained profit. Wellington noted the biggest gain, with median resale yield standing at NZ$555K.
On the given backdrop, let's get acquainted with NZX-listed real estate stocks.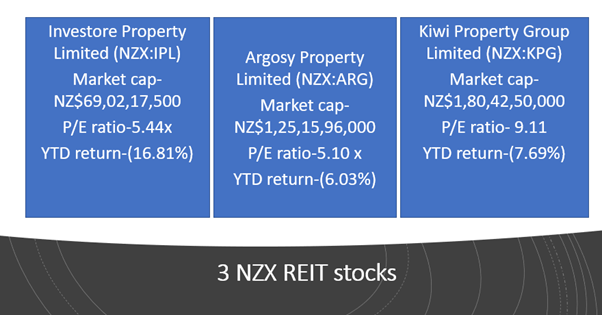 Image source: © 2021 Kalkine Media New Zealand Ltd, data source- Refinitiv
Investore Property Limited (NZX:IPL)
Involved with the commercial property ownership business, a few days ago, Investore Property Limited declared its half-year results for the period ended September.
During the HY22 period, profit before other income stood at NZ$15.4 million, surging up by NZ$3.2 million on pcp. Profit after income tax stood at NZ$56.9 million, NZ$34.1 million down on pcp.
The dividend for the period was declared at 1.975 cps with an imputation credit of 0.307375, which is payable by 1 December.
For the rest of FY22, the Company is likely to persist on its plan of targeted growth as and when prospects come up. It is further contemplating the issuance of bond in the FY22 period, coherent with the Company's intention of proactively managing capital.
On 19 November, Investore Property last traded flat at NZ$1.88.
Related article; Investore (NZX:IPL): How did it perform in interim results?
Argosy Property Limited (NZX:ARG)
Engaged with acquisition, the manager of a diversified portfolio and developer, Argosy Property Limited, would be releasing its 1H22 results for the cycle closed September this year on 23 November.
Argosy intends to conduct a conference call and webcast of half an hour during the result day.
In September, the Company conveyed that the strike price for the DRP, operating with regards to the dividend amount, which was paid on 29 September, was NZ$1.5979/share.
At the end of the trading session, on 19 November, Argosy was at NZ$1.48.
Also read; A win-win situation for both, Argosy's DRP to help shareholders and the Company
Kiwi Property Group Limited (NZX:KPG)
Established 25 years ago, Kiwi Property Group Limited is the biggest diversified property entity.
Last week, Kiwi property notified that Kylie Eagle, General Manager, People & Communications, - had exited the organisation to explore another prospect. Her last working day is 3 December.
The Company made an announcement last month, about six-month results for the period closed September to be released on 22 November through a webcast and conference call.
Do read; KPG, AFT, NZR Announce Mixed Results-COVID-19 Impact Visible
Bottom Line
It was during October 2021, when the RBNZ boosted its OCR to 0.50%. Back then, the Monetary Policy Committee members observed the RBNZ's evaluation of the unsustainable level of housing prices.
They further noted various aspects like- slower population rise, shifts in tax settings, tighter bank lending rules, etc., which were likely to curb rising property prices in a medium span of time.