Summary

Air New Zealand manages an international network, offering cargo, as well as passenger services to, from and in New Zealand to ~ 17 million passengers on yearly basis.
The Company has been subjected to the unprecedented effect of COVID-19 on its business as the global aviation industry faced an extensive travel and border restrictions.
Consequently, Air New Zealand witnessed its first loss in 18 years for the FY20 period.
To hit the ground running, the airline is expecting to complete a strategic capital structure review by early 2021, followed by a capital raising to be completed before June 2021.
Globally, FY20 has been a year of stark contrast. Following the declaration of a global pandemic, economies, lifestyles, and businesses took a hard hit. However, adhering to the "new normal", refreshed business strategies, stimulus packages, sustainability focus and digital priorities seem to be tools for eventual recovery.
Renowned New Zealand-based airline, Air New Zealand Limited (NZX:AIR) responded to COVID-19 with urgency- obtaining additional liquidity, structurally lowering its cost base, and deferring major capex spend. The business thrives to grow profitably once travel restrictions are ultimately removed and customer demand resumes.
MUST READ: New Zealand Domestic Air Travel
Air New Zealand Limited (NZX:AIR)- An Overview
AIR's stated objective is to create a world class organisation and revolves around delivering 3 Cs- cultural, customer and commercial excellence.
The Company's strategic focus and competitive advantage lies within the Pacific Rim. Its network reach extends from New Zealand into Australia, Asia, as well as the Americas. The Company also connects New Zealand to Europe and beyond through its own connection to London and global alliance partners.
The Company's purpose is to support New Zealand socially, economically, and environmentally, while offering a liberating travel experience and connecting New Zealanders with the world.
AIR's Battle With The Novel Coronavirus
The Company experienced a solid start this year and was focused on driving profitable growth into the second half. So much so, Air New Zealand had plans to launch the first ever non-stop link between New Zealand and New York. It had also announced exciting innovations in the customer experience space. And then, COVID-19 wreaked havoc.
AIR reported its first loss of $87 million, demonstrating the quick and severe impact of the pandemic. Travel restrictions resulted in a 74% drop in passenger revenue from April 2020 to the end of June 2020, relative to the prior year.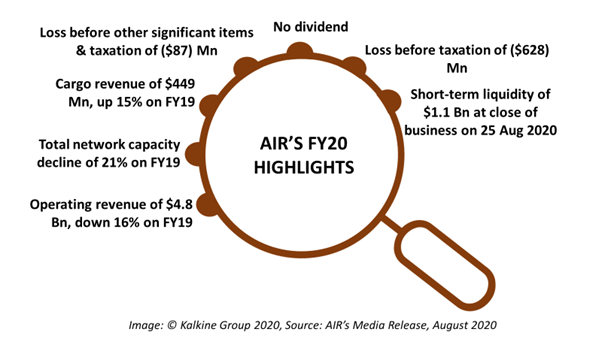 Not All Is Grim!
Air New Zealand acted with speed and agility to combat the repercussions of the pandemic. These actions, along with the strategic review, the airline could support the Company in maintaining a strong and competitive position when travel restrictions lift.
Let us cast an eye on measures taken by the Company-
Secured additional liquidity in the form of $900 million in additional funding.
Structurally reduced its cost base, reducing the cash burn.
Deferring significant capex spend.
Refreshed the business strategy to focus on sustaining competitive strengths, ensuring long-term positive outcomes for customers, staff, the broader community, and shareholders.
Rolled out the preliminary stages of a digital tool for consumers to see and redeem their respective credits online.
Made over 180,000 of its cheapest fares accessible for sale throughout the 20 ports AIR flies to.
The Crown Standby Facility has started to be drawn down. It offers the essential liquidity support. AIR's Board is constructively engaged with the Crown in its capital structure and funding conversations.
The New Zealand Government has recently reaffirmed its commitment to maintaining its majority shareholding in Air New Zealand.
MUST READ: Flights Under $60
Consequently, in June and July, the airline experienced heavy demand for domestic travel!

DON'T MISS: Will Tourism Sector See The Light Of The Day?
Bottomline
Air New Zealand has not provided a specific 2021 earnings guidance. However, it continues to evaluate a range of scenarios on how the pandemic may develop and the various impacts on its business operations, fleet, operating cost structure, and capital requirements.
The Company expects to finalise the strategic capital structure review by early 2021. It could even raise capital before June 2021.
GOOD READ: Serko And Air New Zealand's Share Price Performance
Perception around gold has been undergoing a paradigm shift and is now seen as a crucial strategic asset, with changing macroeconomic conditions. A vibrant gold market has a positive impact on companies that are involved in the exploration and mining activities.
CLICK HERE FOR YOUR FREE REPORT!