Highlights

Ryman has 41 villages, 36 in NZ and 5 in Australia.
Ryman experienced a solid H1 FY22 with an increase in profit.
There are 15 more villages under construction with further 11 sites in Ryman's land bank.
Ryman Healthcare provides beautiful homes and the best of care for older people. The Group's villages are constantly altering and being revived as new residents bring their outside interests and networks into villages with them.
Ryman supports the health, safety and wellbeing of over 6,100 team members and 12,500 residents. The Group has provided more than 8 million hours of care and services in 2020 and donated over $4 million to ANZ charity partners.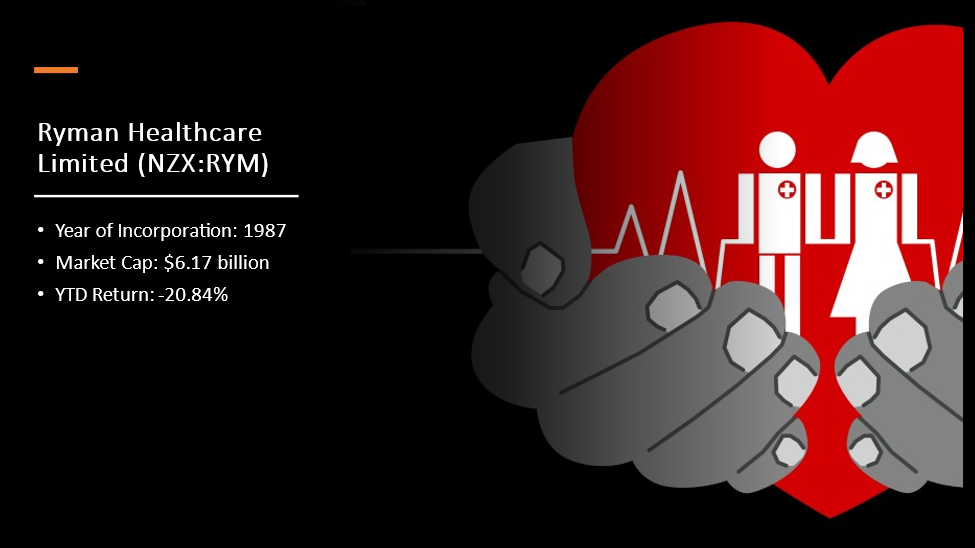 Image source: © 2021 Kalkine Media®, Data source- Refinitiv
The Group built 736 beds and units in FY21 and has added about 2,236 care beds and 5,096 units in last decade. The Group has 41 villages, 36 in NZ and 5 in Australia.
Ryman has a well-consented pipeline of villages, which gives it a great platform for growth.
Ryman's performance in H1FY22
Ryman witnessed a robust H1 FY22 with an increase in its profits due to strong demand from retirement living and aged care despite disruptions caused due to the COVID-19 pandemic.
ALSO READ: Which top 3 NZX stocks are trading under NZ$1?
The Group's underlying profit rose 8.5% to $95.9 million in the 6 months to 30 September due to an increase of 53.5% in resale earnings, indicating better pricing and greater volumes. RYM's resale margin also rose to 25% in the period.
At the end of H1 FY22, only 101 units were offered for resale. Total booked sales rose 21.8% to 703 units on pcp despite restrictions in two of its biggest markets, Auckland and Victoria.
Ryman's development pipeline
Ryman has invested $406.4 million in the period in developing new villages, replenishing land banks and renovating existing villages to further improve the resident knowledge.
RELATED READ: 5 fastest-growing NZX stocks to look at this year
Ryman began working on 3 new sites during this period - at Highett, Takapuna, in Auckland, and in Ringwood East in Melbourne. This takes total villages under construction to 15 and it has a further 11 sites in its land bank.
DO READ: Look at these 5 NZX-listed penny stocks for 2022
Ryman has also got consent for its village at Park Terrace in Christchurch. It has also bought an additional property at Ocean Grove and Essendon in Victoria to extend existing sites and welcomed residents to two new villages in Christchurch and Auckland.
On 5 January, at the time of writing, RYM was trading at $12.39, up 1.14%.
Bottom Line
Ryman has strong growth plans for the long term, which will increase its ability to cater to more communities through the retention of capital within its business.
(NOTE: Currency is reported in NZ Dollar unless stated otherwise)