Highlights

Vaccine passes will no longer be needed from Monday midnight.
However, the mandate would stay for workers within the health and disability sector, prison staff, police and border workers.
New Zealand is still not prepared to eliminate all COVID-19 curbs, as per experts.
New Zealand will be doing away with vaccine passport requirements from 11:59 pm on Monday. Kiwis will no longer require vaccine passes to enter business events, gyms, bars, sports and other types of gatherings. The country also scrapped the mandate to scan-in at venues and did away with debatable vaccine obligations in several sectors.
Government vaccine mandates will also be eliminated for some workers from Monday midnight. However, the mandates will stay in health and disability settings, in prisons and for border workers, and a few roles in police may also need to be vaccinated.
The NZ government is also due to review its traffic light setting. NZ is operating under the red light setting currently that puts limits on indoor and outdoor gatherings. Public health experts are calling for the need to switch to the orange setting as Omicron cases have peaked in the country.
Amid this backdrop, let's see how these 3 NZX healthcare stocks are doing.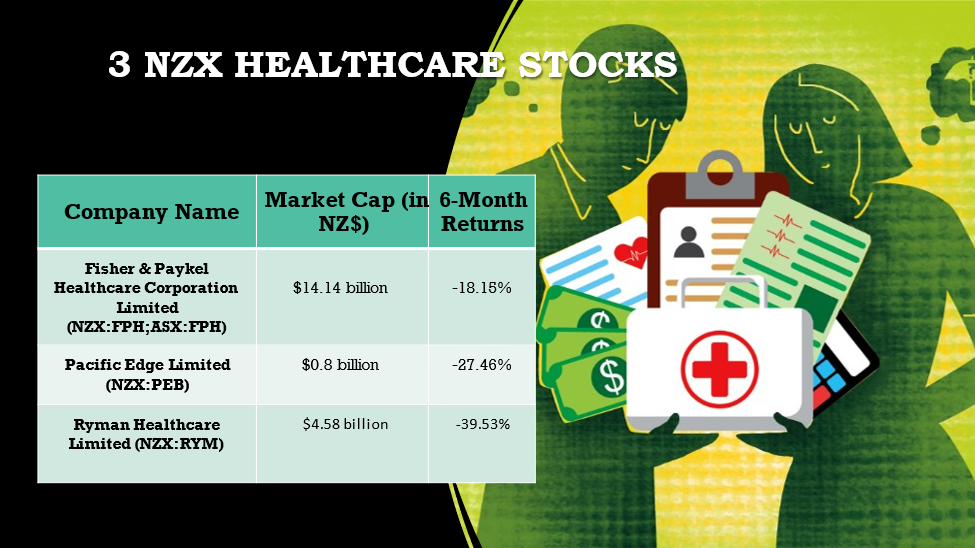 Image source: © 2022 Kalkine Media®, Data source- Refinitiv
Fisher & Paykel Healthcare Corporation Limited (NZX:FPH; ASX:FPH) 
NZ-based healthcare player Fisher & Paykel expects an operating revenue between $1.675 billion and $1.7 billion for FY22.
DO READ: Fisher & Paykel (NZX:FPH): Latest update on its FY22 revenue guidance
The Group's hospital consumables revenue is similar to that reported in H1 FY22, while the revenue from sales of OSA Masks remains above the H1 growth rate. FPH remains well placed in bringing out modifications in clinical practice and enhancing results for respiratory patients in the long term despite the COVID-19 impact.
On 4 April, at the time of writing, FPH was trading at $24.74, up 0.98%.
Pacific Edge Limited (NZX:PEB; ASX:PEB)
Cancer diagnostics company Pacific Edge provided an investor update on 30 March. The Group's achievements were pivotal in the US market with PEB teaming up with Kaiser Permanente and buildingwide partnerships with key leaders.
DO READ: FPH & 2 other healthcare stocks on watchlist as COVID surge continues
PEB continues to look for growth prospects in the US. The Group is witnessing continued growth in test volumes and making progress in upgrading its Dunedin clinical laboratory, which is expected to open in April.
The Group is due to release its full-year results in May end.
On 4 April, at the time of writing, PEB was trading at $1.03, up 4.04%.
Ryman Healthcare Limited (NZX:RYM)
NZ retirement village operator Ryman registered an underlying profit of $95.9 million in its HY22 report, up 8.5% on pcp due to robust demand for retirement living and aged care choices.
ALSO READ: FPH, SUM: 2 healthcare stocks in news as COVID-19 cases surge in Canterbury
RYM has robust long-term expansion plans in place and has begun development on its additional locations. Furthermore, Ryman paid an interim dividend of 8.8 cps in December 2021.
On 4 April, at the time of writing, RYM was trading at $9.09, down 0.87%.
Bottom Line
New Zealand is still not prepared to eliminate all COVID-19 curbs, as per experts. While cases peaked in March with over 20K cases per day, the 7-day rolling average has come down to 13,543.
(NOTE: Currency is reported in NZ Dollar unless stated otherwise)