Highlights

The RBNZ informed that scraping a coin to check a counterfeit banknote was not the bank's recommended way to check its fakeness.

ANZ reported a 72% rise to $6.16 billion in statutory profit in FY21 on pcp.

WBC stated that

Westpac Capital Notes 4 (WCN4) would be eliminated from the Official Quotation by the close of trading on 21 December.
The RBNZ informed on Monday that there was a myth that was spreading fast in Christchurch where genuine banknotes were being rejected and damaged with honest Cantabs being accused of passing counterfeits.
RBNZ's Money and Cash Department executive Peter Northcote stated that people are being misinformed that a banknote is false if they scrap it using a coin and print comes out showing plastic. He noted that the information was false and was not one of its recommended ways to check a banknote.
By worldwide standards, New Zealand has an extremely low rate of counterfeiting, with all false notes easily discovered using quick and easy suggested inspections.
Amid this backdrop, let's see how these 5 NZX financial stocks are doing as 2021 nears its end.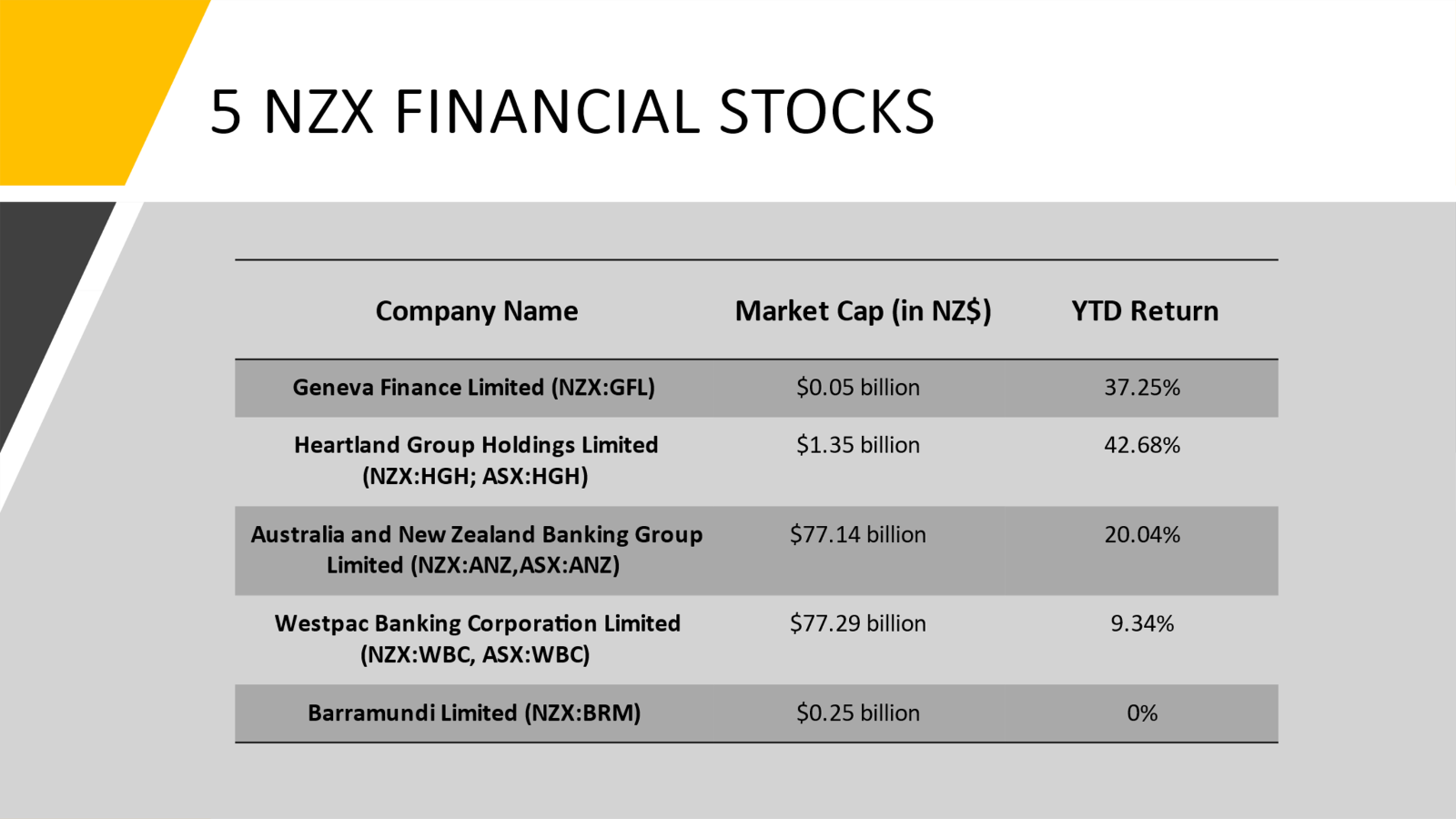 Image source: © 2021 Kalkine Media®, Data source- Refinitiv
Geneva Finance Limited (NZX:GFL)
Geneve Finance made a pre-tax profit of $4 million in the first half of FY22, up 22% on previous year. The Group performed well in the first four months of the period, but lost steam after the shutdown in August.
GFL paid an interim dividend of 1.25cps on Tuesday. GFL is committed to growing profit margins and shareholder value.
GFL ended the day flat to close at $0.7.
Heartland Group Holdings Limited (NZX:HGH; ASX:HGH)
On 1 November, Heartland delivered an update on performance rights to some of its workers. These rights are part of the company's performance rights plan for FY22.
DO READ: How are 5 NZ banks faring amid GDP drop in September quarter?
In coming year, HGH anticipates a profit of $93 million to $96 million.
HGH ended the day 0.86% in green to close at $2.34.
Australia and New Zealand Banking Group Limited (NZX:ANZ,ASX:ANZ)
ANZ successfully navigated the impact of COVID-19 and provided strong returns in FY21. It reported a 72% rise in statutory profit of $6.16 billion for the period on pcp, majorly due to partial reversal of COVID-19-related credit provisions. ANZ paid a total dividend of 142 cents for the full year.
ALSO READ: Which are 5 best NZX dividend stocks for 2022?
The bank also performed strongly in NZ, reporting robust revenue and profits.
ANZ ended the day 1.35% in green to close at $29.29.
Westpac Banking Corporation Limited (NZX:WBC, ASX:WBC)
Westpac notified the market on Tuesday that its Westpac Capital Notes 4 (WCN4) would be eliminated from the Official Quotation by the close of trading on 21 December. The step comes after completing the redemption of 5,496,799 WCN 4 that were on issue.
WBC ended the day 1.84% in green to close at $22.71.
Barramundi Limited (NZX:BRM)
BRM notified that its net asset worth was $0.8357 on 15 December 2021, with the five largest portfolio holdings being CSL, Wistech, Carsales.com, CBA and Seek.
ALSO READ: 2 NZ insurance companies that can be followed ahead of 2022
BRM ended the day flat to close at $0.97.
Bottom Line
NZ's financial industry is well positioned to face any turbulence that comes ahead.
(NOTE: Currency is reported in NZ Dollar unless stated otherwise)