Highlights

The financial sector forms a significant part of an economy.
Tower will hold its ASM on 13 December.
NZA will pay an interim dividend of 1.6cps on 23 December.
The financial industry of any country includes the companies and institutions that offer financial services to people and corporations. It consists of a wide range of industries like banks, insurance companies, investment houses, real estate brokers, etc.
Let's have a look at how these NZX-listed 5 financial stocks are doing.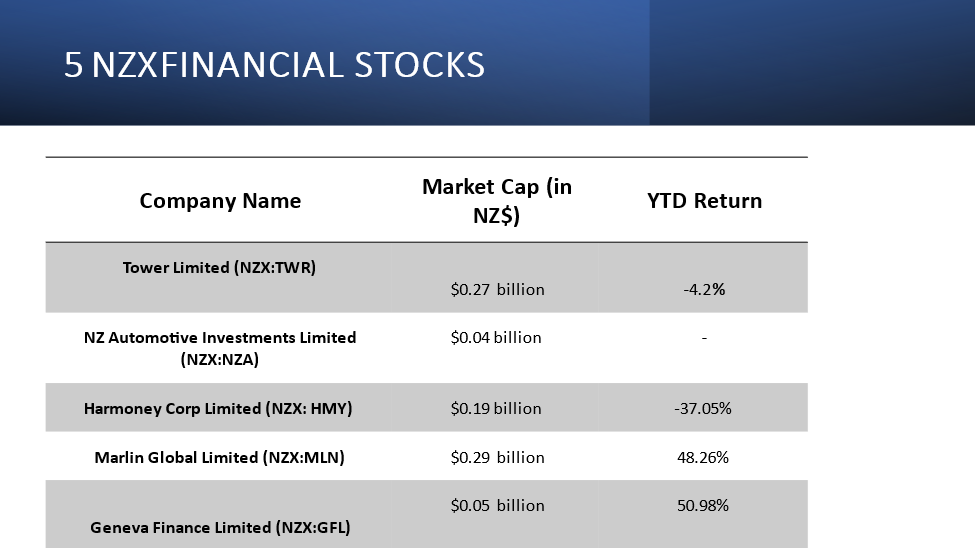 Image source: © 2021 Kalkine Media, Data source- Refinitiv
Tower Limited (NZX:TWR)
Tower notified that it would conduct its ASM on 2 February 2022. The board meeting will be a hybrid meeting, occurring both online and in Auckland.
The Group also informed that nominations for election as director are now open and will close on 13 December 2021.
TWR ended the day 1.47% in green to close at $0.69.
NZ Automotive Investments Limited (NZX:NZA)
NZ Automotive, involved in automotive retail and vehicle finance, released its interim results on 29 November. The Group fared well in the first 4.5 months but was impacted by COVID-19 lockdowns in mid-August.
ALSO READ: Why these top NZX REIT stocks of 2021 can be considered
NZA will pay an interim dividend of 1.6cps for HY22 on 23 December 2021. The Group expects an improved second half under the new traffic light system.
NZA ended the day 2.22% in red to close at $0.88.
Harmoney Corp Limited (NZX: HMY)
Harmoney Corporation, the largest online personal lender, will be required to obtain the transfer of shares for the benefit of its employees under its employee share scheme. The Company will pay the purchase price of shares to assist employees financially.
Related Read: Are these 5 NZX mid-cap aiming to become large-cap stocks?
HMY paid $201,917.33 for the on-market purchase of shares and financial assistance was given for a total of 109,800 shares.
HMY ended the day 2.15% in green to close at $1.9.
Marlin Global Limited (NZX:MLN)
Marlin Global, offering investments in different international ventures, recorded an undiluted net asset value of $1.23 as at 30 November 2021. The Group also declared total dividends of 7.43cps to date with 1 more dividend likely to be declared in the remaining period till the announcement of the 20 May 2022 exercise price.
Meta Platforms (10%), Alphabet (7%) and Tencent (7%) held the largest portfolio holdings as at 30 November 2021.
MLN ended the day 1% in red to close at $1.49.
Geneva Finance Limited (NZX:GFL)
Geneve Finance delivered a pre-tax profit of $4 million for the half-year ended 30 September 2021, up 22% on pcp. The Group fared well in the first 4 months of the period, but this momentum was stalled from the August lockdown.
Interesting Read: Which 5 NZX dividend stocks under NZ$5 to consider in 2022?
GFL paid a dividend of 1.25cps on 30 November 2021.
GFL remained committed to providing profit growth and increase shareholder value. GFL ended the day flat at $0.73.
Bottom Line
Macro and financial stability policies will play a vital role in controlling the challenges being faced by the financial system.
(NOTE: Currency is reported in NZ Dollar unless stated otherwise)