Highlights

Both ASB Bank and Kiwibank, some of the most sought-after banks across New Zealand, have been grabbing the headlines.
ASB faces a multimillion-dollar lawsuit over default interest payments, while Kiwibank is experiencing frequent internet outages.
These may cause serious damage to both the banks' reliability and reputation.
New Zealand has a well-established and sophisticated network of financial institutions, which helps New Zealanders in saving, investing, spending as well as running their businesses, and meeting their day-to-day expenses.
It is home to some of the most famous banks across the world, which support the country in its economic growth.
With this overview, let us look at two of its well-known banks, namely ASB and Kiwibank, which are currently grabbing the headlines.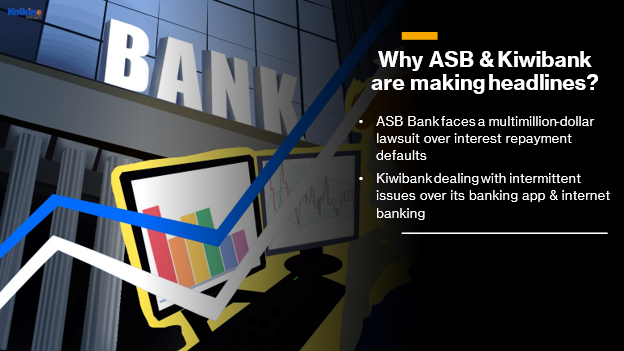 Source: Copyright © 2021 Kalkine Media
ASB Bank sued in New Zealand for default in interest refunds
Wednesday, ASB along with ANZ was sued for millions of moneys for not refunding interest and fees levied by the banks, which otherwise were not entitled to charge from over 150,000 customers.
Must Read: Top things to watch out for in New Zealand market today
The lawsuit claims that the Kiwi units of ASB Bank did not notify its customers of a change in its home and personal loans terms and conditions and hence, asserted that during the period, the said lenders cannot levy a charge on a loan.
Related Read: ASB Raises Interest Rate Amid COVID-19 Uncertainties
It is pointed out that the action class is being funded by LPF Group, an NZ litigation funder, and CASL, an Australian litigation funder.
Interesting Read: Why ASB is slapped with a $8.9 million penalty
The claimants opine that the said class action would motivate banks to provide better and transparent banking services and would also draw respect towards all its customers.
Moreover, the banks would be discouraged from committing any such future breaches and also improvise on their obligatory compliance.
Kiwibank's internet banking services gone for a toss
Another famous banking solutions provider across NZ is Kiwibank Limited.
The bank has recently grabbed the headlines for all wrong reasons. It has been facing frequent banking access outages over the past three weeks, ever since a recent DDoS attack, which impacted numerous banks across the country.
Do Read: Customers still facing issues with Kiwibank transactions
This Tuesday also, its internet banking services got disrupted, attracting numerous complaints from its customers.
Related Read: Kiwibank To Pay Customers NZD 5.2 Million Due To System Failures
The bank has acknowledged issues with its banking app, phone banking as well as internet banking.
Its customers feel that neither the bank is keeping them adequately informed nor it is clear about what exactly is the problem.
Analysts and experts say that if problems related to internet and mobile banking facilities persist, it would cause serious impairment to the brand's image.
Since banks are aware that the customers are the king and any difficulty faced or compliance issues reported by them may cause serious damage to the banks' reputation, they must aim at providing fair, just, and quality services by following all the regulatory norms.