Highlights

The dividend share is portion of profit earned by a company, paid to the stakeholders.
In its annual results, Chorus' EBITDA was noted at NZ$649 million, marginally increasing on pcp.
Briscoe Group experienced a solid half-yearly result, with an increase in NPAT on pcp.
Dividend amounts are frequently distributed -quarterly, half-yearly or on an annual basis to the stakeholders of a company.
The dividend share is portion of profits earned by a company, however, not every listed company pays the amount to the stakeholders.
Each dividend amount paid on a regular basis are approved by the Board of directors in a company.
Let's now skim through the 4 NZX dividend stocks that are payable in Q4 2021.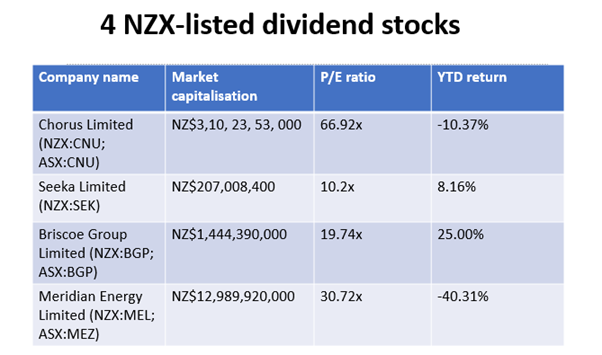 Image source: © 2021 Kalkine Media New Zealand Ltd, data source- Refinitiv
Chorus Limited (NZX:CNU; ASX:CNU)
Telco giant Chorus Limited released the results for the 12-months closed June last year.
During the period, total revenue stood at NZ$947K, down by 1%. While EBITDA was noted at NZ$649 million, marginally increasing by FY20's EBITDA standing at NZ$648 million.
FY21 final dividend amount of 14.5 cps is to be paid on 12 October 2021.
Also, DRP applied with 2% discount to prevailing market price, for ANZ stakeholders.
On 11 October, Chorus last traded down by 0.77% at NZ$6.45.
Related article; How is Chorus (NZX:CNU) progressing with fibre installation?
Seeka Limited (NZX:SEK)
Wholly incorporated orchard to market service provider Seeka Limited released its half-year results for the period closed June 2021.
For the period, net profit before tax was noted at NZ$30.8 million, surging by 77% on pcp.
The Company declared the dividend amount of NZ$0.13/share for the six months period, payable by 13 October. Moreover, DRP would apply on the dividend amount.
Seeka ended the day's trading session at NZ$5.05, decreasing by 0.59%.
Do read; What are the 5 most interesting NZX Stock Stories? FBU, SEK, BLT, MHJ, ZEL
Briscoe Group Limited (NZX:BGP; ASX:BGP)
As a holding company for its retail stores situated across NZ region Briscoe Group Limited had released its results for the 6- month period ended August 2021.
During the period, NPAT was noted at NZ$47.46, up by 69.63%. While the total sales stood at NZ$358.4 million, increasing by 22.58%.
The directors of the Company declared the six months dividend amount of 11.50 cps to be paid on 14 October, which has risen from pcp where it stood at 9.00 cps.
At the end of the trading session, on 11 October, Briscoe last traded at NZ$6.8, up by 1.49%.
Also read; How Did Retail Sector Respond To Fair Pay Proposal? A Look At WHS, KMD, BGP, HLG
Meridian Energy Limited (NZX:MEL; ASX:MEZ)
Renewable energy generator Meridian Energy Limited released its full year results ended June 2021.
During the period, total revenue stood at NZ$4,296 million, which was 26% up on pcp. Net profit from continuing operations stood at NZ$428 million, rising by 145% on pcp.
The Board announced the final dividend distribution of 11.20 cps, payable by 15 October.
Meridian Energy last traded at NZ$4.98, climbing 2.36%, at the end of the market session.
Related article; Is Meridian Energy(NZX:MEL) on a growth path post FY21?
Bottom Line
Most of the organisations make an effort to remain consistent with the regular dividend payout track record, which could possibly attract investors towards them.
However, during unprecedented times like the ongoing pandemic, many companies deferred the dividend payment. Though many of them, defied the virus and challenges and still made the dividend payment.