Highlights

Investing in dividend stocks is best for income growth.
Bolstered by a positive outlook for the rural sector, PGG Wrightson to pay a dividend on 4 October.
Kathmandu Holdings intends to pay a final dividend in December, witnesses a strong FY21 performance.
Investors are always charmed by dividend-paying companies, for they not only ensure a regular flow of income but also offer tax benefits and help in reducing overall portfolio risk.
Moreover, reinvesting those dividends keeps the investors in a comfortable financial position.
That said, let us cast a glance at the five NZX dividend stocks worth exploring in Q4.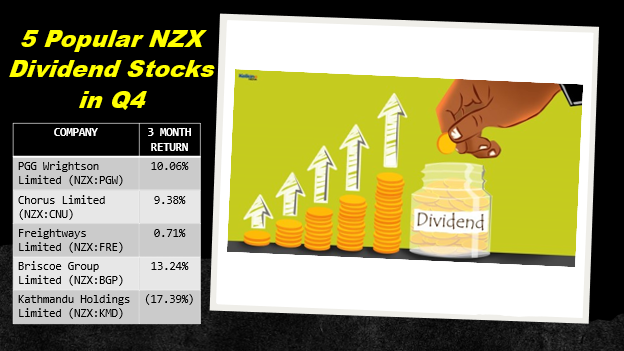 Image source: © 2021 Kalkine Media New Zealand Ltd, data source- Refinitiv
PGG Wrightson Limited (NZX:PGW)
Based in Christchurch, PGG Wrightson Limited is NZ's agricultural supply business, which is going to pay a 16.0 cps on 4 October.
Lately, the Company released its 2021 Annual Report, highlighting its impressive performance for the year. It recorded an NPAT and EBITDA of NZ$22.7 million and NZ$56.0 million, respectively, underpinned by a positive outlook for the rural sector and the increased confidence both among farmers and growers.
Also, PGW has revealed to hold a physical Annual Shareholders' Meeting in Napier on 19 October.
At the closing bell on 28 September, PGG Wrightson climbed by 1.08% at NZ$3.740.
Related Read: Which are the 5 most sought-after NZX listed agriculture stocks?
Chorus Limited (NZX:CNU)
One of the famous telecom companies operating across the country is Chorus Limited, which is going to reward its shareholders by paying a dividend of 14.5 cps on 12 October. Also, shares under Dividend Reinvestment Plan would be allotted on the same day.
Considering the present conditions, the Company will conduct its Annual Meeting virtually on 27 October.
Also, it has announced the stepping down of Prue Flacks from the Board as well as nominating Miriam Dean for the post of an independent non-executive director at its above-mentioned Annual Meeting.
Shares of Chorus traded flat at NZ$6.550 on 28 September at the market close.
Also Read: How are these 3 NZX communication stocks performing amid frequent internet outages?
Freightways Limited (NZX:FRE)
Functioning as an express package and a courier delivery company, Freightways Limited will pay a handsome final dividend of 18.0 cps on 1 October.
Related Read: Are these 5 NZX mid-cap aiming to become large-cap stocks?
The Company demonstrated a resilient FY21 performance amid the pandemic, witnessing a revenue growth of 27% and a 29.7% rise in its GAAP NPAT for the year.
On 28 October, FRE is planning to hold an online Annual Meeting of Shareholders, with an aim to pass resolutions related to the re-election of its directors and authorising the Board to establish the auditor's fees.
At the market close, Freightways declined by 0.16% at NZ$12.830, on 28 September.
Briscoe Group Limited (NZX:BGP)
The country's famous retail chain, Briscoe Group Limited, will pay an interim dividend of 11.50 cps on 14 October.
Interesting Read: A lens on 5 NZX retailers amid the prevailing lockdown
In its recently announced half-yearly results ended 1 August 2021, the Company's NPAT was reported at NZ$47.46 million, up by nearly 69%, Also, its total sales, amounting to NZ$358.4 million, grew by 22.58%, bolstered by an improved supply chain as well as an enhanced shopping experience.
With no further lockdowns, BGP expects to deliver an NPAT between $73.2 million to $85 million for the full year.
At the end of the trading session on 28 September, Briscoe Group fell by 0.43% at NZ$6.970.
Kathmandu Holdings Limited (NZX:KMD)
The famous retailer for apparel and sports equipment is Kathmandu Holdings Limited, which would distribute a final dividend of 3.00 cps on 15 December.
Underpinned by strong sales performance by its brands, namely Rip Curl and Oboz, the Company's FY21 sales escalated to $922.8 million, while its underlying EBITDA recorded a 35.9% growth, amounting to NZ$113.3 million.
KMD expects a reduced first-half FY22 profit when compared to that of the first half of FY21, owing to ongoing Australasian lockdowns.
Shares of Kathmandu gained by 1.92% at NZ$1.590 on 29 September, at the closing bell.
Must Read: Are the 5 NZX retail stocks benefitting amid the pandemic?
Bottom Line
Usually given by well-established companies, dividend declaration reflects a strong financial footing of the company. Investors should always keep aside a certain portion of their investment portfolio for these dividend-paying stocks.