Source: Parilov ,Shutterstock
Economies all over the world have been greatly impacted by the ghastly pandemic. However, some sectors offering essential goods and services continued to grow, despite facing COVID-19 related challenges.
One such sector which remained unstirred was the dairy sector. Given the prevailing market scenario, dairy companies have shown a reasonable growth and has remained accessible for exports all through the year.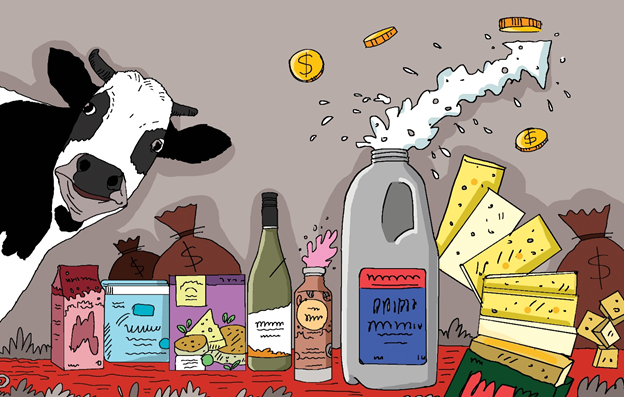 Source: Copyright © 2021 Kalkine Media Pty Ltd
In the given backdrop, let us peep into the latest updates from the 3 NZX dairy stocks.
The a2 Milk Company Limited
NZ's leading milk producing company, The a2 Milk Company Limited (NZX:ATM) made some significant announcements of late.
During February, the Company declared its half-year results ended 31 December 2020, wherein it reported revenue of $677.4 million and EBITDA of $178.5 million for the said period. Its balance sheet reflected a robust and steady results with no debt and $774.6 million as closing cash balances.
Further, the Company saw a shift in its management roles w.e.f. 26 February 2021. Independent non-executive director, Jesse Wu, announced his retirement, however, he would now take charge as special advisor to the Chair. Also, Bessie Lee as now assumed charge as an independent non-executive director.
On 4 March 2021, at the time of writing, ATM stock was down by 0.89% at $10.010.
Did You Miss Reading; How Are These NZX Stocks Doing Today- LIC, GEO, PYS, MCY, ATM?
Synlait Milk Limited
The dairy processing company, Synlait Milk Limited (NZX:SML), declared that due to the prevailing uncertainty and eccentricity in the market conditions, the Company has withdrawn its FY21 guidance (which was earlier forecasted to be half of FY20's NPAT).
The circumstances which gave a jolt to SML's credence can be attributed to the existing variability in the commodity prices and the global shipping delays and its repercussions.
Therefore, the earlier predicted NPAT of about $37 million for FY21 is now reticent. However, the Company is hopeful and figuring out ways to achieve a decent level of production.
On 4 March 2021, at the time of writing, SML stock was down by 9.35% at $3.490.
Fonterra Co-operative Group Limited
The multinational dairy company, Fonterra Co-operative Group Limited (NZX:FCG) recently announced key updates for February 2021.
The Group affirmed the country's milk production levels to be consistent and concurrent with the past 12 months. FCG saw a 0.8% increase in NZ's milk production in January 2021 on pcp. Australian dairy exports have climbed by 25.4% (15,983 MT) in December 2020 on pcp.
Fonterra's January 2021 milk collection for NZ slightly declined by 0.9% as compared to January 2020. However, its Australian milk collection for January 2021 stood at 9.7 million kgMS, up 4.5%.
The Group affirmed that Aotearoa's dairy farms have the lowest carbon footprint across the globe.
On 4 March 2021, at the time of writing, FCG stock was up by 0.79% at $5.080.