Highlights

NZ boasts a robust network of telecom companies, with strong fundamentals.
Spark New Zealand records power-packed H1 FY22 performance.
Chorus to pay 14.0 cps as interim dividend in April.
New Zealand's telecom sector is marked by well-established telecommunication companies which provide a robust network of fibre connections, covering almost the entire country.
In spite of the ongoing pandemic, many NZ telcos worked closely with broadband retailers and residential customers, thus witnessing continuous growth in fibre demand among Kiwis.
With this backdrop, let us quickly glance through the three popular NZX-listed telecom companies which have declared their interim performances.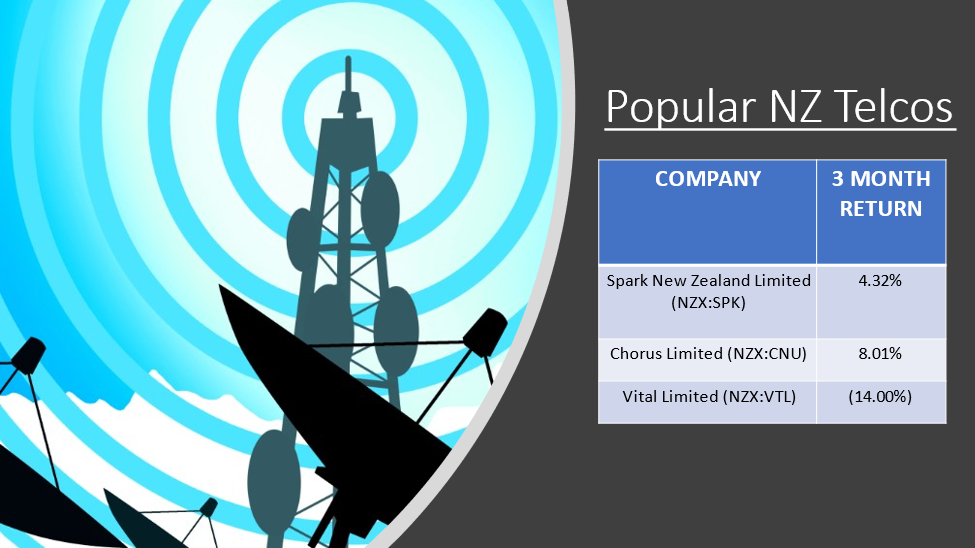 Source: © 2022 Kalkine Media® data source- Refinitiv
Spark New Zealand Limited (NZX:SPK; ASX:SPK)
Spark New Zealand Limited a few days ago announced its strong H1 FY22 performance, in both revenue and EBITDAI. While revenue was up by 5.2% to NZ$1,890 million, EBITDAI grew by 7.6% to NZ$538 million for the period.
Must Read: SKC, PPH, SPK, KMD- 4 most active stocks amid NZ anti-vaccine protests
Moreover, the Company's NPAT climbed by 21.8% to NZ$179 million, bolstered by SPK's standout performance in the mobile segment, as it was the fastest-growing NZ mobile provider by connections.
The telecom company has announced an H1 FY22 dividend of 12.5 cps, payment of which will be done on 8 April.
It will continue to invest in modernising its mobile network and enhancing its coverage across the country.
On 25 February, at the closing bell, SPK traded flat at NZ$4.590.
Chorus Limited (NZX:CNU; ASX:CNU)
Despite COVID-19 disruptions, Chorus Limited has posted a robust first-half financial performance for the six months ended 31 December 2021.
Bolstered by continued broadband growth in the company's fibre areas, both CNU's NPAT and EBITDA rose to NZ$42 million and NZ$347 million during the said duration.
Related Read: Why Chorus' shares were in high spirits today
On 12 April, CNU will distribute an interim dividend of 14.0 cps to its shareholders.
Moreover, it has provided dividend guidance for FY22 to be at 35.0 cps, while for FY23 and FY24, the dividend to be a minimum of 40.0 cps and 45.0 cps, respectively.
On 25 February, at the closing bell, CNU gained by 0.70% at NZ$7.150.
Vital Limited (NZX:VTL)
Today, Vital Limited released its 1H FY22 results, wherein the Company reported revenue worth NZ$16.5 million, a fall of 7.6% on pcp.
Further, VTL witnessed a net loss after a tax of NZ$0.799 million, owing to prolonged effects of COVID-19 on its performance and continuous rise in inflationary cost pressures.
Do Read: Why look at 3 NZX communications stocks in 2022?
Hence, the Company has decided to suspend the payment of a dividend in FY22; the decision regarding the same will be reviewed in FY23.
Moreover, for FY22, Vital expects to report a full-year loss.
On 25 February, at the closing bell, VTL was down by 5.49% at NZ$0.430.
Bottom Line
Telcos across Kiwiland remain focused on evolving needs of customers and aim to provide higher returns to their shareholders.