Highlights

The cryptocurrency arena has significantly expanded since the launch of Bitcoin in 2009.
Crossgate Capital invests in twelve leading cryptocurrencies.
The Company's investment approach is similar to a strategy followed when constructing traditional share portfolios.
Crossgate Capital carefully selects and invests in different types of cryptocurrencies based on fundamentals not retail hype whilst also taking advantage of new developments and emerging trends.
Bitcoin is the oldest cryptocurrency and has been the catalyst in creating a new asset class. It has been a dominant cryptocurrency in the portfolio of institutional investors.
Over the past decade the cryptocurrency sector has evolved. While Bitcoin is the largest and most well-known cryptocurrency, just like investing in the share market some investors consider a diversified portfolio is the optimum approach when investing in this sector.

Scott Lester, Executive Director of Crossgate Capital said "Since each cryptocurrency has a specific purpose, such as payments, providing infrastructure or services, their reason for being and ability to deliver needs to be considered when investing". Lester continued "This is a fast-moving market. Investors are also considering other cryptocurrencies as they benefit from utilising the latest technological advancements".
Crossgate Capital is an established and trusted New Zealand company that provides a smart and simple way to invest in a diversified portfolio of cryptocurrencies.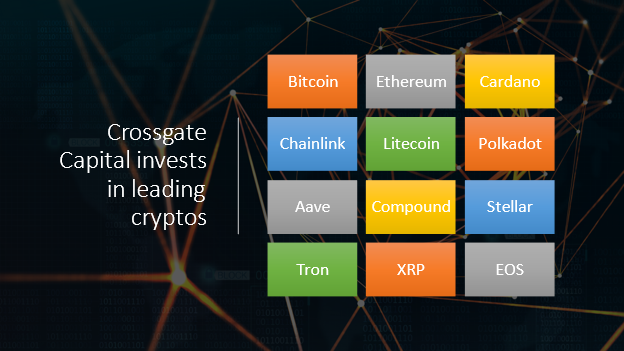 Image source: © 2021 Kalkine Media New Zealand Ltd, Data source: Crossgate Website
Crossgate Capital aims to provide investors with a positive return by investing in cryptocurrencies that they consider has substantial potential for growth. The Company has a strong holding of Bitcoin and Ethereum but has greater breadth by investing in ten other leading cryptocurrencies.
Related read; Two years in, where is Crossgate Capital at
Crossgate Capital offers portfolio diversification
Crossgate Capital follows a diversification approach similar to the investment strategy followed in a traditional share portfolio. They consider that diversification helps minimise risk in this high-risk asset class and potentially maximises returns as capital is invested across a number of established crypto assets.
According to Crossgate Capital, a diversified portfolio reduces the risk that comes with investing in a single cryptocurrency. It also provides Crossgate Capital the opportunity to gain exposure to new technical developments and use cases which present themselves in this rapidly evolving crypto landscape.
This limits exposure to just Bitcoin or Ethereum or any particular cryptocurrency and enables investors to benefit from the potential growth experienced by other cryptocurrencies.
Clive Jimmieson, Executive Director of Crossgate Capital said "Put simply, we do not put our all our eggs in one basket as we consider this increases risk and we may miss out on potential returns". Jimmieson continued "we have been pleased that our holdings include altcoins as they have been intrinsic in delivering on our performance objectives".
Also read; Crossgate Capital's cryptocurrency category selection
Crossgate Capital offers a simple and smart approach to invest in a portfolio of leading cryptocurrencies. Some of the reasons as to why crypto investor considers that a well-constructed diversified portfolio is a solid investment strategy while investing in cryptos are;
Crossgate Capital carefully selects and invests in different types of cryptocurrencies which they consider have the potential for growth over the long term.
The Company engages in continuous monitoring and research of each asset to find out the overall asset weighting and constructs an appropriate portfolio on this basis. It reviews its portfolio mix by category and sector (as detailed below).
The Company invests based on fundamentals not retail hype.
Crossgate Capital has a deliberate strategy to invest in established assets. Their objective is to construct a diverse portfolio while managing risks. It invests in individual crypto assets with a market capitalisation of at least NZD 500 million as at the date of purchase.
Crossgate Capital constantly examines the weightings of assets as part of this process and keeps an eye on other assets that could be worth including.
Related article: Gaining early mover advantage in Bitcoin investing through Crossgate Capital
Image source: Crossgate Capital's Website
Jimmieson noted, "Some investors are Bitcoin maximalists, people with the belief that Bitcoin is the only crypto of value that will matter in the future. They are all in on Bitcoin and may only allocate a small portion of their capital to other cryptocurrencies. This differs from our approach. Whilst we are understandably positive on Bitcoin and consider it a core part of a portfolio, in such a fast moving sector we consider a diversified portfolio is the best way to invest in this market."
Crossgate Capital Limited is the issuer of the products. The Product Disclosure Statement for the offer is available and can be obtained at www.crossgatecapital.co.nz.
The website https://kalkinemedia..com/nz is a service of Kalkine Media New Zealand Limited (Company Number 8107196). The article has been prepared for informational purposes only and is not intended to be used as a complete source of information on any particular company. The above article is sponsored but NOT a solicitation or recommendation to buy, sell or hold the stock of the company (or companies) or engage in any investment activity under discussion. Kalkine Media does not recommend the buying or selling of any cryptocurrencies or digital assets. Investors should do their own due diligence. We are neither licensed nor qualified to provide investment advice through this platform. All pictures are copyright to their respective owner(s). Kalkinemedia.com does not claim ownership of any of the pictures displayed on this website unless stated otherwise. Some of the images used on this website are taken from the web and are believed to be in public domain. We have used reasonable efforts to accredit the source (public domain/CC0 status) to where it was found and indicated it below the image.