Summary

Health of the global economy affects the performance of stock markets in New Zealand.
CAV notified the market about four strategic pathways which could drive its growth.
Total recurring revenue of PYS rose by 54% compared to Q1 FY 2020.
Operating cashflow of OCA rose by 11.3% to $99.4 million because of sale proceeds from the developments completed in last financial year.
Generally, broader markets in New Zealand get affected by global economic concerns as well as health of the global economy. Also, broader performance of the New Zealand economy influences performance of NZ equities. Notably, if the NZ economy performs better, the investors might decide to allocate their investable capital towards equities which could help in favourable momentum of broader stock markets. Let us have a look at the performance of S&P/NZX50.
S&P/NZX50 closed the session in red as there was a fall of 0.49% to 11,636 on July 24, 2020. However, S&P/NZX20 fell by 0.51% to 7,766 and, on the same day, S&P/NZX10 witnessed a fall of 0.51% to 12,280.
We would now be covering some stocks which investors should look at.
Cavalier Corporation Limited (NZX: CAV)
Cavalier Corporation Limited is mainly involved into two broadloom carpet businesses, a yarn business, and a wool procurement business.
A Recent Update on CAV
Cavalier Corporation Limited has recently released new transformational strategy. As per the release, this strategy places it with an all-wool and natural fibres business model. The four strategic pathways through which the company's growth will be driven are:
Grow the company's share of the market;
Grow the wool flooring market;
Innovation and Future Thinking;
Expand the presence.
The financial benefits of transformation strategy as well as return to profitable growth is anticipated from FY 2023 onwards, after an initial 12 to 24 months of investment, and full benefits are anticipated from FY 2025 onwards.
QEX Logistics Limited (NZX: QEX)
QEX Logistics Limited a cross-border logistics company serving NZ, Australia and China. The company enables storage, supply, packaging, customs clearance as well as delivery of NZ products bought from stores, online and e-commerce sites by the individual consumers from China, or through a daigou.
QEX Reports Increase in FY20 Revenue
The company has recently released unaudited financial results for the year to March 31, 2020 (or FY 2020). It reported revenue of $62.8 million, an increase of 5.7 per cent (or $3.37 million) on PCP, despite of various challenges faced during the year, including a 4th quarter in which, initially China, and then New Zealand went into lockdown to tackle the rapid spread of Covid-19.
The net profit after tax declined to $1.2 million. This includes the impact from a key supplier re-branding a product and costs related to the establishment of the new Australian operations. For QEX, FY20 was divided into two parts. The first half was challenging, and in the second half, the company experienced the highest revenue month in history in November.
The company has decided not to declare a dividend at this time as the company has recently raised additional capital to fund growth.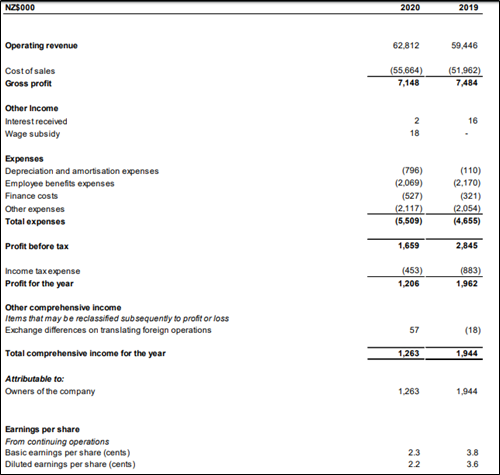 Key Data (Source: Company Reports)
Gentrack Group Limited (NZX: GTK)
Gentrack's Revenue Affected by Loss of UK Customers
For the half year ended 31 March 2020, the company reported total revenue of $50.6 million, down by 7% on 1HFY19. This is because of the loss of numerous UK customers as a result of supplier failure or acquisition, and a decline in non-recurring revenue in Australia as well as the United Kingdom.
Committed recurring revenue was up by 11% to $29.7 million;
Underlying EBITDA stood at $4.3 million, in line with guidance provided in February;
Oceania Healthcare Limited (NZX: OCA)
Oceania Healthcare Limited (NZX: OCA) operates in NZ residential aged care as well as retirement village sectors, offering residents villas and apartments within the retirement villages. The company also provides a full range of residential aged care services at the aged care facilities.
Oceania Healthcare Reports Mix Bag of Results
For the year ended 31st May 2020, Oceania Healthcare Limited has reported Underlying EBITDA of $63.5 million, even though the company was not able to sell retirement village units throughout the final quarter of the financial year because of the lockdown imposed by Government. The company's operating revenue rose by $7.0 Mn (or 3.7 percent) as a result of increased aged care occupancy. However, higher income from premium rooms as well as increased income from retirement village operations also contributed to the increase.
Good Spirits Hospitality Limited (NZX: GSH)
Good Spirits Hospitality Ltd is a listed investment company that focusses on the hospitality sector.
GSH Changes its Auditors
In the release dated June 29, 2020, the company stated that it has lately tendered its financial audit which has resulted in the decision to hire BDO New Zealand as its auditor and the resignation of PwC. As per the release, this appointment would be put to the company's next AGM for ratification.
PaySauce Limited (NZX: PYS)
PaySauce Limited is a SaaS employment solutions provider which allows business owners to pay and manage employees accurately and efficiently with the help of iOS, web, and Android applications.
PaySauce Maintains Robust Growth
PaySauce Limited ended the first quarter of FY21 with continued robust growth. The company's total recurring revenue increased by 54 per cent to $449K as compared to 1QFY20.
PYS welcomed over 330 new clients in Q1. This implies a 13 percent increase in the total customer base since March 31st despite coronavirus pandemic as well as nationwide lockdown.