Highlights

High-volume stocks are the most traded stocks and reflect market sentiment.
An active interest in a certain stock due to various factors lead to the high trading of that stock.
Argosy Property was the most traded stock of the day.
High-volume stocks are the stocks that are the most active and trade in the highest volumes on an exchange at a particular day. Market demand and supply, economic conditions and many other factors can result in a stock being traded in high volumes on a day.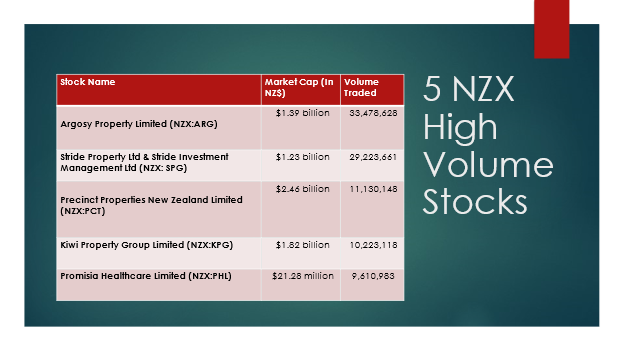 Image source: © 2021 Kalkine Media New Zealand Ltd, Data source- Refinitiv
Have a look at these 5 stocks that have gained the maximum momentum in terms of volumes of trade during the market session today.
Argosy Property Limited (NZX:ARG)
Argosy was the most traded stock of the day, seeing a trading volume of 33,478,628.
ALSO READ: 5 NZX REIT stocks amid rising housing prices
The Group lately extended its bank facilities costing to $215 million, which are being provided by a group of banks, which include WBC, ANZ, BNZ and others.
On 17 September, Argosy Property rose by 0.62% at NZ$1.63 in the closing session.
Stride Property Ltd & Stride Investment Management Ltd (NZX: SPG)
Stride was the second most traded stock and recorded a trading volume of 29,223,661 on Friday.
Stride Property stated on 13 September that its subsidiary, Fabric Property, has filed its product disclosure statement (PDS) for its IPO and that trading would likely commence on 6 October. The firm intends to raise between $250 million and $290 million.
Related Read: How are 6 interesting stocks performing on the NZX?
The Group also plans to create a new office fund through a demerger and Fabric's NZX IPO.
On 17 September, Stride Property dropped by 1.57% at $2.51 in the closing session.
Precinct Properties New Zealand Limited (NZX:PCT)
Precinct was another stock that traded with high volumes of 11,130,148 on Friday.
On 9 September, NZX Operations advised that Precinct Properties New Zealand Limited (PCTHA) Convertible Notes would be converted into PCT ordinary shares on 27 September.
Also Read: What are six most exciting stories on NZX today?
The share numbers into which every holding of Notes converts will be determined by dividing their principal amount by the conversion price, which is due to be declared on 20 September. The final day of trading in PCTHA was 15 September.
On 17 September, Precinct Properties rose by 0.6% at NZ$1.685 in the closing session.
Kiwi Property Group Limited (NZX:KPG)
Kiwi Property was also amongst the most active stocks and reported a trading volume of 10,223,118 on Friday.
COVID-19-related interruptions affected Kiwi Property's operations in FY21. However, as lockdowns got shorter, trade conditions across New Zealand became more stable, resulting in improved profits in the second part of FY21.
The Group issued a final cash dividend of 2.95cps, with a distribution of at least 5.3cps planned for next year.
On 17 September, Kiwi Property climbed by 4.33% at $1.205, in the closing session.
Promisia Healthcare Limited (NZX:PHL)
Promisia was also amongst the most traded stocks, trading at a high volume of 9,610,983 on Friday.
RELATED READ: Which are 5 popular retirement villages stocks on NZX?
The Company announced a breach of one of its 2 banking agreements for the June quarter. The agreement was related to the prerequisite for EBITDA/Interest cover to be at least two times the interest cost.
On 17 September, Promisia traded flat at $0.001 in the closing session.
Bottom Line
Most traded stocks can help investors in altering their portfolio as per the current market conditions while taking rewards of short-term trading opportunities.
(NOTE: Currency is reported in NZ Dollar unless stated otherwise)