Highlights

Active stocks are the most traded stocks on an exchange.
They are the stocks that trade in the largest and above-average volumes in a day.
Pushpay, a2 Milk, and Rakon traded in the highest volumes for the day.
The most active stocks of the day are those that trade the most during the day. Due to corporate performance, any major new update or news that influences a stock's price, these equities get larger than typical trading volume.
This makes it easier for investors to decide whether or not to get a specific company's stock, resulting in increased trading volume and a strong impetus.
Let's look at the 5 most active stocks for Friday.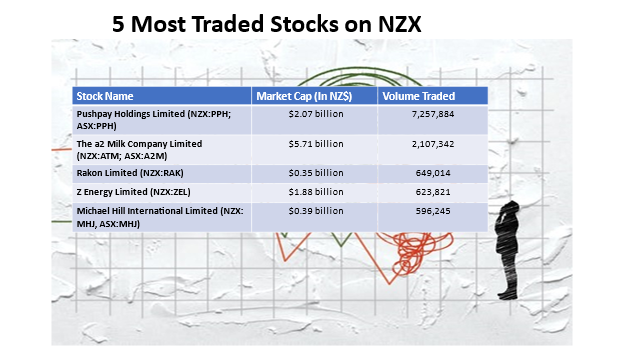 Image source: © 2021 Kalkine Media, Data source- Refinitiv
Pushpay Holdings Limited (NZX:PPH; ASX:PPH)
Pushpay Holdings was the most traded stock of the day, reporting a trading volume of 7,257,884. On 12 November, PPH ended the trading session at $1.55, down 3.13%.
RELATED READ: Pushpay (NZX:PPH): Has it continued delivering revenue growth?
Pushpay continued to deliver revenue growth, net profit and EBITDAFI growth for the 6 months ended 30 September 2021 as its products' sales and customers increased.
The a2 Milk Company Limited (NZX:ATM; ASX:A2M)
The a2 Milk was the second most traded stock of the day, posting a trading volume of 2,107,342 for the day. On 12 November, ATM ended the trading session 0.94% lower at $6.33.
ALSO READ: Would The a2 Milk's (NZX:ATM) latest strategy drive growth across multiple horizons?
ATM has pursued a growth-driving strategy across multiple horizons after it witnessed a difficult FY21. The Group expects to deliver next-wave growth from innovation and supply chain transformation by FY25-26.
Rakon Limited (NZX:RAK)
Rakon was the next most traded stock of the day, posting a trading volume of 649,014. On 12 November, RAK settled the trading session higher by 8.11% at $1.6.
DO READ: 3 NZX growth stocks nobody is talking about in 2021
On Friday, the Group upgraded its earnings guidance for FY22 and expects to reach an EBITDA of $44 million to $49 million in FY2022.
Z Energy Limited (NZX:ZEL)
Another stock topping the list was Z Energy, posting a trading volume of 623,821. On 12 November, ZEL settled the trading session lower by 0.28% at $3.59.
ZEL recently appointed Julian Hughes as General Manager, Supply, while confirming that David Binnie would be working with the firm till 31 December 2021.
Michael Hill International Limited (NZX: MHJ, ASX:MHJ)
Michael Hill was also one of the most traded stocks on the NZX, which noted a trading volume of 466,049. It settled the trading session at $1.2, higher by 1.69%, on 12 November.
RELATED READ: Michael Hill (NZX:MHJ): Which strategy updates were provided in AGM?
The Group released its AGM presentation on 27 October. MHJ stepped in FY22 in a healthy financial position, permitting it to continue its renovation, promote its brand, and delve into new growth possibilities across all routes and geographies.
Bottom Line
Investors keep an eye on the most traded stocks to take better investment decisions.
(NOTE: Currency is reported in NZ Dollar unless stated otherwise)