On 15th July 2021, the broader market came under selling pressure due to significant selling of Consumer Staples and Communications Services stocks, while some support was provided by Materials stocks as it gained by 1.11%. Notably, NZX 50 Index declined by 0.38% to 12,671.16 and NZX 20 Index fell by 0.50% to 8,021.88. NZX All Consumer Staples witnessed a significant fall of 2.05%.
Data Source: NZX, Table Source: Copyright © 2021 Kalkine Media
MidCap and SmallCap Outperformed Broader Market:
NZX 50 Index ended at 12,671.16, which implies ~9.14% increase over the previous 1 year. Also, MidCap Index and SmallCap Index claimed 6,370.29 and 22,502.11 points, respectively.
S&P/NZX 50 Index vs SmallCap Index vs MidCap Index – Performance Over One Year

Source: REFINITIV
Gainers and Losers:
ArborGen Holdings Limited (NZX: ARB) came forward and released presentation in which it was mentioned that, subject to the uncontrollable factors, it is aiming US-GAAP EBITDA for the current year ending March 2022 to be between $13-$14.5 Mn.
On 15th July 2021, Good Spirits Hospitality Limited (NZX: GSH) rose by 8.11% to NZ$0.080 per share.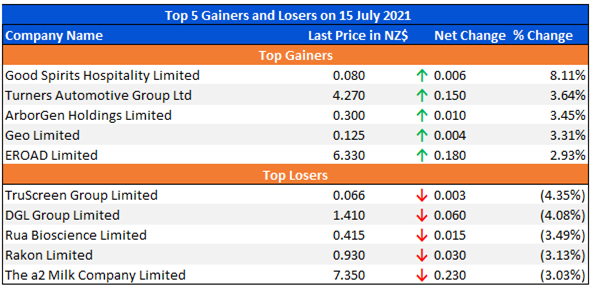 Data Source: NZX, Table Source: Copyright © 2021 Kalkine Media
Movement on Wall Street:
On 14th July 2021, NASDAQ Composite fell by 0.22% to 14,644.95. Notably, Dow Jones Industrials Average increased by 0.13% to 34,933.23.
Note: The reference data in this article has been partly sourced from REFINITIV