On October 23, 2020, S&P/NZX50 ended the session in green as there was a rise of 0.51% to 12,470.34 and S&P/NZX20 rose by 0.58% to 8,172.98. On the same day, S&P/NZX10 increased by 0.52% to 2,178.70. Utilities sector encountered an increase of 2.34% and financials sector increased by 1.25%. On the flip side, consumer non-cyclicals sector fell by 0.26%.

Sector Summary (Source: Refinitiv (Thomson Reuters))
Top Movers: Meridian Energy Ltd (NZX: MEL) (up by 3.75%), Mercury NZ Ltd (NZX: MCY) (up by 3.49%), Sky Network Television Ltd (NZX: SKT) (up by 3.33%). On the other hand, Pacific Edge Ltd (NZX: PEB) declined by 2.60%.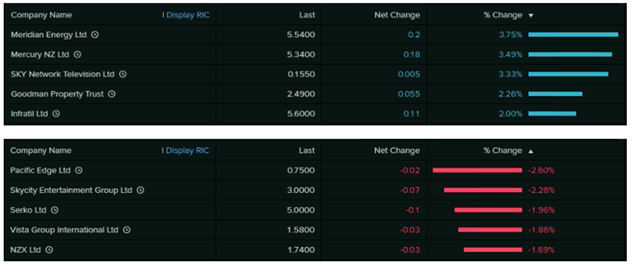 Top Movers (Source: Refinitiv (Thomson Reuters))
Movements on Wall Street: On October 22, 2020, Dow Jones Industrial Average rose by 0.54% to 28,363.66. Also, NASDAQ Composite increased by 0.19% to 11,506.01.
The sole motive of an investor is to grow his/her capital over a period to meet financial goals. In pursuit of this, investors are in a constant hunt for stocks that have capital appreciation potential and those that pay dividends, which one can reinvest to further increase the rate of return. Dividends can also be seen as an incentive for an investor to hold the stock for a longer duration of time, especially when the overall market enters a bear phase, or the underlying invested company goes through business troughs and peaks.
Stocks that have high dividend yield are considered to be a safe bet, but to take a blanket call just on dividend yield would be naive, as there is more to be analyzed to make a sound judgment on the ability of the business to keep paying a dividend over long periods.
Companies over time, increase dividend payout, and in the long term, an astute investor can reap high rewards by picking good dividend stocks, across sectors, thus diversifying and reducing the volatility of one's portfolio. Investors in New Zealand can reap the benefit of dividend imputation credit and further increase their overall return on investment.
So, how should one pick a dividend stock? How to invest in stocks that have the wherewithal to not only pay a dividend but also increase dividend payout over the years?
With Kalkine, you will find answers to these questions, as we conduct a detailed analysis of companies based on quantitative and qualitative parameters.
Sound dividend stocks are investors' delight. They provide the benefits of capital appreciation and the joy of constant income despite the market volatility.
CLICK HERE FOR YOUR FREE REPORT!