On November 25, 2020, S&P/NZX50 ended the session in green as there was a rise of 0.90% to 12,668 and S&P/NZX20 increased by 1.05% to 8,348. Notably, S&P/NZX10 rose by 1.11% to 12,973. Financials sector witnessed a rise of 2.88% and utilities sector encountered an increase of 2.79%. On the other hand, real estate sector witnessed a fall of 0.37%.

Sector Summary (Source: Refinitiv (Thomson Reuters))
Top Movers: Meridian Energy Ltd (NZX: MEL) (up by 5.02%) and Fletcher Building Ltd (NZX: FBU) (up by 3.70%). On the flip side, Tourism Holdings Ltd (NZX: THL) declined by 2.27% and Fisher & Paykel Healthcare Corporation Ltd (NZX: FPH) fell by 1.47%.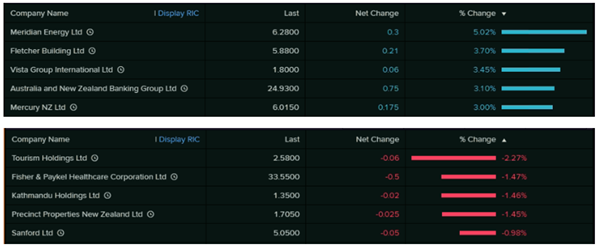 Top Movers (Source: Refinitiv (Thomson Reuters))
Movements on Wall Street:
On November 24, 2020, Dow Jones Industrial Average witnessed a rise of 1.53% to 30,046.24. Notably, NASDAQ Composite increased by 1.31% to 12,036.79.