On 15th September 2021, the broader NZ market closed in red, primariy led by broad based selling in Materials stocks, followed by Energy and Real Estate stocks, among others. However, the downfall was limited by the fresh buying primarily in the Financials and IT stocks, among others. Notably, NZX 50 Index fell by 0.07% to 13,099.30 and NZX 20 Index declined by 0.16% to 8,271.64. NZX All Financials rose by 1.88%.
Data Source: NZX, Table Source: Copyright © 2021 Kalkine Media
Performance of Indices:
NZX 50 Index closed at 13,099.30, reflecting ~11.29% increase in the span of previous 1 year. Notably, MidCap Index and SmallCap Index ended at 6,629.11 and 22,983.09 points, respectively.
S&P/NZX 50 Index vs SmallCap Index vs MidCap Index – Performance Over One Year

Source: REFINITIV
Gainers and Losers:
Briscoe Group Limited (NZX: BGP) has recently released its results for the half-year (1st February 2021- 1st August 2021). Its revenue from continuing operations amounted to $358.421 Mn, reflecting a rise of 22.6% on the previous reporting period (27th January 2020 to 26th July 2020).
Harmoney Corp Limited (NZX: HMY) rose by 5.13% to NZ$2.050 per share.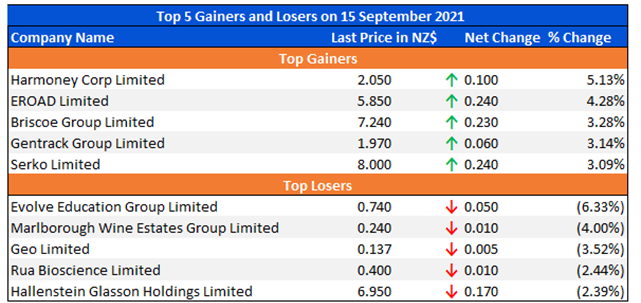 Data Source: NZX, Table Source: Copyright © 2021 Kalkine Media
Movement on Wall Street:
On 14th September 2021, NASDAQ Composite declined by 0.45% to 15,037.76. Notably, Dow Jones Industrials Average fell by 0.84% to 34,577.57.
Note: The reference data in this article has been partly sourced from REFINITIV