On July 8, 2020, S&P/NZX50 ended the session in red as the index witnessed a fall of 0.31% to 11,707 while S&P/NZX20 fell by 0.25% to 7,821. On the same day, S&P/NZX10 encountered a fall of 0.14% to 12,449.
On July 8, 2020, S&P/NZX All Materials witnessed a fall of 2.74% while S&P/NZX All Utilities ended in green as there was an increase of 1.05%. We will now have a look at the performance of individual stocks.
The stock price of Blackwell Global Holdings Limited (NZX: BGI) witnessed a rise of 22.22% on an intraday basis to NZ$0.022 per share. On the same day, the share price of Rakon Limited (NZX: RAK) rose by 7.02% to NZ$0.305 per share.
The following image provides a broad idea as to how the share price of RAK has trended in the span of past 90 days: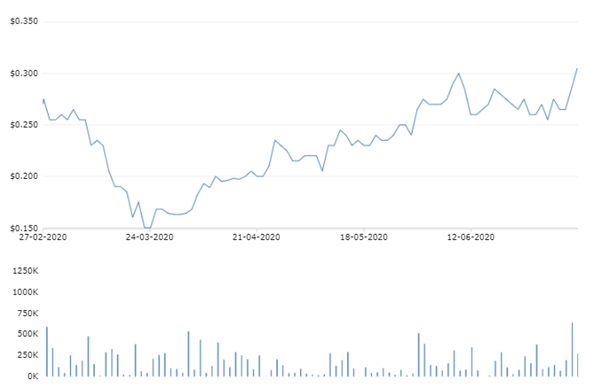 Stock Performance (Source: NZX)
A Recent Update by SKC
SkyCity Entertainment Group Limited (NZX: SKC) came forward and made an announcement that $50 Mn share purchase plan, which was closed on July 3, 2020, witnessed robust shareholder support with total applications of around $45.6 Mn (91% take-up). SPP was part of the company's funding plan as well as equity raising, which was announced on June 17, 2020, that also included $180 Mn institutional placement.
TLL Ended the Session in Green on July 8, 2020
On July 7, 2020, TIL Logistics Group (NZX: TLL) released a shareholder newsletter in which it was mentioned that the company's businesses have been recovering post the lifting of coronavirus restrictions as well as good progress is being made on FY 2020 initiatives to drive the performance.
The company's management is cautious when it comes to the trading environment. However, there is now greater certainty with regards to the impact of coronavirus as well as ongoing performance, and TLL has reissued guidance for FY20.
The company is anticipating FY 2020 EBITDA (excluding the impact of IFRS 16) to be in the range of $25 Mn and $27 Mn.
---
Disclaimer
The website has been prepared for informational purposes only and is not intended to be used as a complete source of information on any particular company. The above article is NOT a solicitation or recommendation to buy, sell or hold the stock of the company (or companies) under discussion. Kalkine does not in any way endorse or recommend individuals, products or services that may be discussed on this site.