On 11th August 2021, the broader NZ market was influenced by the selling pressure witnessed in the Healthcare stocks. However, some buying was seen in the real estate stocks. Notably, NZX 50 Index fell by 0.13% to 12,748.07 and NZX 20 Index declined by 0.26% to 8,094.75.
Data Source: NZX, Table Source: Copyright © 2021 Kalkine Media
Performance of Indices:
NZX 50 Index ended at 12,748.07, implying ~9.47% increase in the previous 1 year. Also, MidCap Index and SmallCap Index ended at 6,404.90 and 22,360.25 points, respectively.
S&P/NZX 50 Index vs SmallCap Index vs MidCap Index – Performance Over One Year
Source: REFINITIV
Gainers and Losers:
In the release dated 29th June 2021, Rua Bioscience (NZX: RUA) as well as University of Waikato notified the market about the ground-breaking, 2-year research programme. Notably, this is to investigate the application of the hyperspectral technology to the cultivation as well as assessment of the medicinal cannabis. Also, this paves the way for RUA to make an entry into NZ's agritech sector.
Enprise Group Limited (NZX: ENS) rose by 7.14% to $2.250 per share.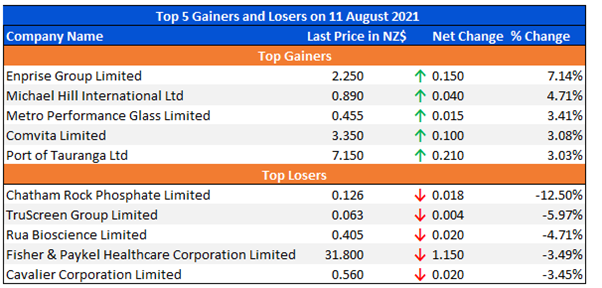 Data Source: NZX, Table Source: Copyright © 2021 Kalkine Media
Movement on Wall Street:
On 10th August 2021, NASDAQ Composite declined by 0.49% to 14,788.09. Notably, Dow Jones Industrials Average rose 0.46% to 35,264.67.
Note: The reference data in this article has been partly sourced from REFINITIV