On November 6, 2020, S&P/NZX50 ended the session in green as there was a rise of 0.71% to 12,337.02 and S&P/NZX20 increased by 0.80% to 8,112.78. On the same day, S&P/NZX10 rose by 0.65% to 2,165.89. Consumer Non-Cyclicals sector rose by 2.47% and utilities sector increased by 2.44%. On the flip side, healthcare sector fell by 0.82%.

Sector Summary (Source: Refinitiv (Thomson Reuters))
Top Movers: Synlait Milk Ltd (NZX: SML) (up by 7.63%), Meridian Energy Ltd (NZX: MEL) (up by 4.82%) and Pushpay Holdings Ltd (NZX: PPH) (up by 3.69%). On the other hand, Fisher & Paykel Healthcare Corporation Ltd (NZX: FPH) witnessed a fall of 2.14% on an intraday basis.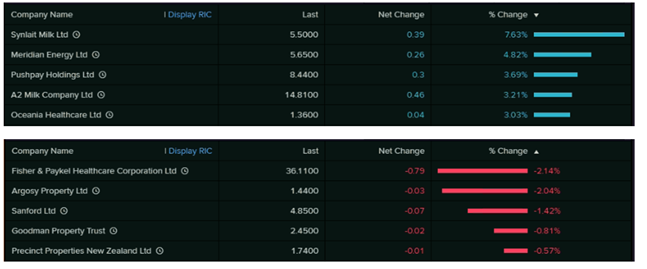 Top Movers (Source: Refinitiv (Thomson Reuters))
Movements on Wall Street: On November 5, 2020, Dow Jones Industrial Average rose by 1.95% to 28,390.18. Notably, NASDAQ Composite increased by 2.59% to 11,890.93.