On 2nd August 2021, the broader NZ market ended the session in green as significant buying was witnessed in the Healthcare and Consumer Staples stocks, among others. However, Information Technology pulled the broader market lower, as the sector came under selling pressure. NZX 50 Index rose by 0.86% to 12,702.97 and NZX 20 Index increased by 1.15%. NZX All Health Care rose by 1.68%.

Data Source: NZX, Table Source: Copyright © 2021 Kalkine Media
Performance of Indices:
NZX 50 Index ended at 12,702.97 which implies ~8.89% increase over the past 1 year. Also, MidCap Index and SmallCap Index managed to claim 6,332.81 and 22,427.74 points, respectively.
S&P/NZX 50 Index vs SmallCap Index vs MidCap Index – Performance Over One Year

Source: REFINITIV
Gainers and Losers:
Evolve Education Group Limited (NZX: EVO) has made an announcement that New Zealand Chief Operating Officer, Craig Presland, has decided to leave EVO. Notably, the resignation has been accepted by the Board.
Cavalier Corporation Limited (NZX: CAV) rose by 12.00% to NZ$0.560 per share.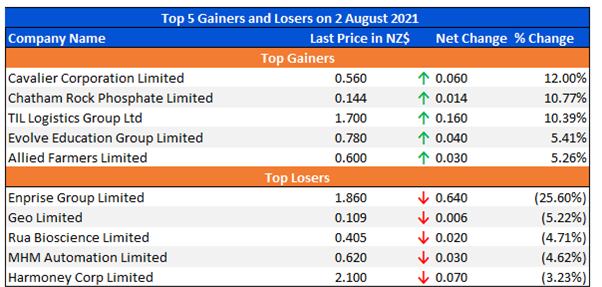 Data Source: NZX, Table Source: Copyright © 2021 Kalkine Media
Movement on Wall Street:
On 30th July 2021, NASDAQ Composite declined by 0.71% to 14,672.68. Notably, Dow Jones Industrials Average fell by 0.42% to 34,935.47.
Note: The reference data in this article has been partly sourced from REFINITIV