Summary

Bitcoin and cryptocurrencies have gained momentum amid COVID-19, with some investors moving their assets into the cryptocurrency space.
With numerous investors opting for cryptocurrency in their respective investment portfolios, Crossgate Capital makes investing in bitcoin and other cryptocurrencies easier.
The Company's portfolio has been created in a way that an investor gets maximum exposure to the most prominent and liquid currencies such as bitcoin and ethereum, which currently makes up 70% of the targeted portfolio weightings.
Crossgate Capital engages in continuous research and monitoring of each asset, uses a consistent approach with a strong and experienced team.
The COVID-19 pandemic has driven the world into an extraordinary economic crisis. Many companies have failed to meet their revenue projections, and some conventional investments have gone for a dive. Investors are struggling to find safe-haven investments during the recession, with more people speculating whether cryptocurrencies such as bitcoin are a viable investment.
DO READ: Bitcoin for Beginners: 5 things you need to know
Considering the market for digital assets is maturing, along with the growing need for a digital medium of exchange, bitcoin and other cryptocurrencies have become notable candidates for alternative asset investing.
Let's now take a peek at how Crossgate Capital can make this investment journey hassle-free for cryptocurrency investors.
A Glance at Crossgate Capital's portfolio
Crossgate Capital makes it simpler for investors by managing all the challenges associated with investing in crypto assets. These challenges consist of identifying which particular cryptocurrency to buy, tax, reporting, storage and keeping track of the fast-moving sector.
Here is a look at the current targeted portfolio weightings of Crossgate Capital;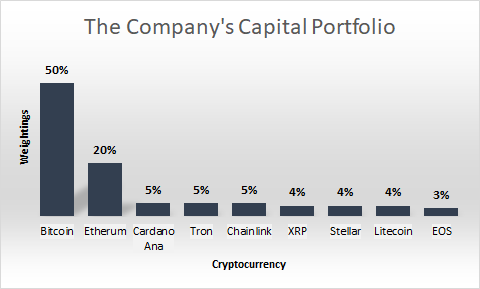 Image Source: ©Kalkine Group; (Data Source: crossgatecapital.co.nz)
To mitigate any unnecessary transaction fees or tax implications, Crossgate Capital's primary approach is to re-weight the portfolio through purchases as opposed to selling any of the cryptocurrencies.
An investor can make a one-off investment or set up an automatic payment on either a fortnightly or monthly basis and develop his/her portfolio over time.
Crossgate Capital's investment philosophy
Crossgate Capital's investment philosophy is that cryptocurrencies now form part of the financial landscape now and has the capability to be an accepted asset class in the portfolio of an investor alongside equities and debt.
ALSO READ: Where can you use bitcoin?
The below-mentioned factors reinforce the investment philosophy of the Company, which includes:
Managing possession of a variety of crypto assets and eliminating investing hurdles at an individual level
Removing barriers to investing by providing security, managing storage, and constructing an effective portfolio
Providing investors seeking to invest in cryptocurrency with an early mover advantage
Crossgate Capital invests in cryptocurrencies smartly
Crossgate Capital engages in continued research and monitoring of each asset when investing in this asset class. The research and monitoring are needed to determine the overall asset weighting and therefore build a suitable portfolio.
The Company evaluates several factors like financial performance, use case, development and trading activity, community interest, active wallets, industry sentiment, and partnership & acquisitions when undertaking investment decisions.
DO READ: PayPal Goes Active on Crypto Space, Slew of News
Crossgate Capital uses a consistent and structured investment methodology for investing in the crypto assets class. The Company also has a strong results-driven team, with solid governance experience and specialist experience in this asset class.
Clive Jimmieson of Crossgate Capital states that the Company is a traditional investment vehicle with shares titled in the name of the investor. The Company sets itself apart from other ways to invest in cryptocurrencies by providing a simple on-ramp to investing via a familiar form of share investment.
Crossgate Capital measures the investment performance at each valuation date and evaluates the portfolio performance monthly and annually.
The Company receives daily pricing feeds, which is utilised when assessing the performance of the portfolio.
Crossgate Capital Limited is the issuer of the products. The PDS for the offer is available and can be obtained at www.crossgatecapital.co.nz