Summary

The number of new homes consented bounced back in May 2020 and stood at 3,554, up 64% from April and is also the highest number recorded since May 2019.
The actual number of new dwelling permitted was 37,010 in the year ended May 2020 (+6.6% pcp) while the annual value of non-residential building work consented was $6.5 billion (-13% pcp).
The highest number of new consents were in Auckland noted at 1,367.
REINZ house price index reflects a fall in housing values by 0.5% in May, along with sales volumes remaining below previous years in the same month due to Alert level 2/3 in NZ during the period.
No significant rise in listings is expected in coming months, and there are doubts that May figures might include consents submitted several weeks before, implying that actual effects are yet to be seen.
As per the latest figures released in July by StatsNZ, the number of new dwelling consents being announced have improved sharply after lockdown, but commercial building approvals remain low.
About 3,554 new dwelling consents were issued in May, up by 64% from the previous month and the most significant change between months since February 1972. The new dwellings comprised of 1,926 stand-alone houses (down by 4.4% compared to May 2019), which drove the influential May figures followed by other driving factors of record 959 townhouses, flats, and units, 493 apartments and 176 retirement village units.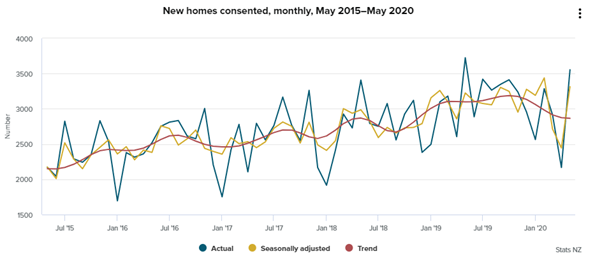 Source: StatsNZ
It was the biggest month for consents since May 2019 when 3,724 approvals were issued, down by just 4.6% compared to May last year. About 37,010 new dwelling consents were issued in 12 months to the end of May, rising by 6.6% compared to the previous 12 months. The number of new dwelling consents increased 36% in seasonally adjusted terms in May 2020 after dropping 9.9% in April 2020.
Westpac's senior economist stated that non-residential work has been witnessing a shrinking pipeline of work as per few construction firms.
The demand for residential consents before lockdown had been robust, up more than 7% in 2019 and had left a lot of work to be done. The upsurge in May brought residential consents back to nearly pre-lockdown levels.
Non-Residential and regional building consent
Non-residential building consents added up to the value of $6.5 billion in the year ended May 2020, down by 13% from May 2019. Consents for new non-residential building work had been declining before the pandemic and had dropped 5.5% in value in May over the past year. Non-residential building types with highest values included:
Education buildings were down by 12% amounting to $924 million
Shops, restaurants, and bars were down by 20% amounting to $909 million
Offices, administration, and public transport building fell by 12% totalling $860 million
By region, the number of new dwellings consented in May 2020 compared to May 2019 were 1,367 in Auckland (-18%), 667 in Canterbury (+50%), 587 in Rest of North Island (-1.5%) and about 341 in Wakita (-24%).
Source: StatsNZ
Falling House prices
Housing market activity is getting back to normal with agent evaluations, new listings, and bank ordered valuations in June comparing favourably to previous years. New for sale listings have been in line with the average over the last 5 years, and vendors were not scared to list their property amid such uncertainty.
As per CoreLogic, sales volumes in May stayed below previous years, but it was not astounding given Alert level 2 or 3 for May with physical distancing methods still in place. There was a fall of about 44% nationwide when adjusting volumes for non-agent sales as well. As sales volumes had fallen down, there is a need for being careful of greater volatility in value measures, comprising house price indices.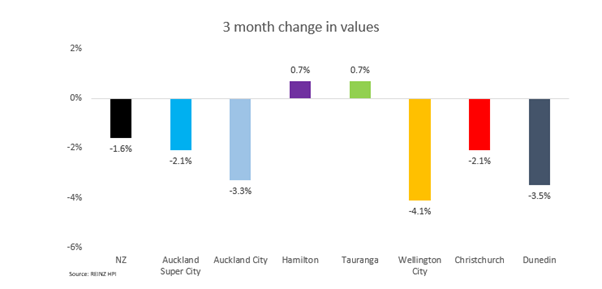 Source: CoreLogic
As per REINZ house price index, housing values fell by -0.5% in May and were about -1.6% low across the past 3 months. The economic contraction is quite evident through most parts. Values in Auckland have fallen -2.1%, the old Auckland city experienced the most significant decline of 3.3%, and Wellington saw the highest fall in the main centres at 4.1% in the last 3 months.
Hence, even after emerging from the lockdown alert level 4, price expectations and creditworthiness have fallen.
Outlook ahead
Acting construction indicators manager Dave Adair of Stats NZ stated that monthly home consent numbers could be affected by the timing of large multi-dwelling projects, but both actual and seasonally adjusted numbers in May reflect a strong rebound from a feeble month of April.
He added that building consents are uncertain at present due to many underlying reasons and impacts of COVID-19, as well as implications faced by councils due to April lockdown. He stated that the figures for May could comprise of consents submitted numerous weeks or months ago so the real consequences of COVID-19 can be witnessed in several months down the line.
A better picture of the COVID-19 effects on the construction industry would come from the "value of building work put in place" figures in the upcoming quarters. The series measures actual work accomplished rather than consents which show just the intention to build.
No significant lift in listings is expected by the property market leader through winter season as the housing market might be moving towards seasonally average volumes of agent appraisals.