As per the Stats NZ, steady job numbers were witnessed in March 2020, ahead of the COVID-19 lockdown at the end of the month. The Covid-19 lockdown began at the end of the month when NZ moved to alert four restrictions at 11:59 pm on 25th March.
Economic statistics manager Sue Chapman said the employment indicator does not show any impact of the corona crisis on jobs.
The S&P/NZX 50 Index increased by 0.14% on 5th May 2020 and settled at 10,491. Notably, S&P/NZX20 witnessed a fall of 0.04% to 7,107 while S&P/NZX10 declined by 0.15% to 11,038.
On May 5, 2020, Asset Plus Limited (NZX: APL) witnessed a rise of 10.81% while Kathmandu Holdings Limited (NZX: KMD) and Geo Limited (NZX: GEO) rose by 10.67% and 6.90%, respectively. However, Pushpay Holdings Ltd (NZX: PPH) increased by 5.81% on an intraday basis.
(Source: Refinitiv (Thomson Reuters))
Let us look at some of the gainers and decliners of the day.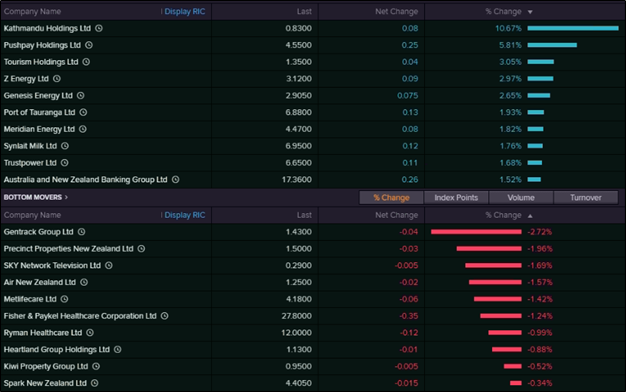 (Source: Refinitiv (Thomson Reuters))
Kathmandu Holdings Limited (NZX: KMD)
During the month of April, the company's online sales were 2.5x to 3x higher than last year, with the strongest growth rates in Australia, the company's largest market. The online sales growth strengthened in the month of April as consumers adjusted to online.
Kathmandu and Rip Curl stores in North America, New Zealand, Brazil, Europe and Japan remain shut and are expected to reopen as soon as the Government allows;
In Australia, over recent days, most Kathmandu and Rip Curl stores in New South Wales and Queensland have reopened on a trial basis, with robust safety protocols in place.
Strong Financial Position After Successful Equity Raising
Recently, the company completed a fully underwritten equity raising of NZ$207 million. It received a great support from institutional and retail investors. The equity raising strengthened liquidity position and balance sheet of the company.
Outlook
Due to closure of the company's store network from late March, the company had a significant negative impact on FY20 earnings. As some stores have started to reopen in Australia, the complete impact of COVID-19 pandemic on the company, cannot be forecasted without the complete information of the timetable for a return to more normal trading conditions.
QEX Logistics Limited (NZX: QEX)
QEX declares the launching of a $3 million SPP
QEX Logistics Limited has launched a $3 million SPP (Share Purchase Plan) whose issue price consists of a 25.3% discount on the 10-day volume weighted average price of the company's shares traded on the exchange during last 10 trading days prior to the announcement date.
The funds procured from the SPP will be used towards:
Developing new logistics opportunities in other countries;
Supporting Australian and Chinese business growth and expansion;
Diversifying QEX's product and services range.
Now let us look at some of the property stocks in New Zealand.
Goodman Property Trust (NZX: GMT)
Goodman Property Trust is an externally managed, listed unit trust. For the six months ended 30th September 2019, the company reported a statutory profit of $236.4 million before tax. Fair value gains stood at $172.4 million on investment property, and the net tangible assets per unit rose from 157.0 cents at 31 March 2019, to 172.8 cents at 30th September 2019, up by 10.1%.
A significant portfolio revaluation, further development progress, successful leasing outcomes as well as strategic new acquisitions have all added to the company's record interim profit. The company also declared a cash distribution of 3.325 cpu, which signifies about 106% of the company's cash earnings of 3.15 cpu.
Guidance and Outlook for FY20
Goodman Property Trust's investment strategy has been refined to meet the growing requirement for warehouse and distribution space across Auckland. The city's industrial property market remains to be New Zealand's best performing commercial real estate sector led by a strong regional economy.
Argosy Property Limited (NZX: ARG)
Argosy Property Limited invests and manages properties, which includes office, industrial and retail properties across New Zealand. Recently the company released its 31st March year end valuation update. The company recorded a full year portfolio revaluation gain of $61.7 million, a 3.6% increase over book value. Of this, $50.8 million was booked in the 30th September 2019 interim results.
Auckland was the biggest contributor to the revaluation gain with $49.7 million or 81% of the total portfolio gain. By sector, Industrial again provided the greatest contribution at $53.4 million, up 6.8%. The Office portfolio increased $21.3 million, or 2.9% and Large Format Retail declined by $13.0 million or -6.5%.
FY20 Guidance Amid COVID-19 Pandemic
The company has a diversified portfolio of properties by location, type and tenant. As at 29th February, the portfolio was weighted 45% to Industrial, 38% to Office and 17% to Large Format Retail. By location, 72% of the portfolio was in Auckland and 26% in Wellington. The company has maintained high occupancy at 98.4% and has a weighted average lease term of 6.1 years. The ongoing impact of Covid-19 is unknown. However, the company remains comfortable with overall business. The company has also reiterated its FY20 guidance of 6.35 cps.
Now let us have a look at the latest update on property market.
According to Barfoot & Thompson, in the 1st month of trading under the coronavirus lockdown, the Auckland property market was left bruised, however, its underlying stability was intact. As per the key personnel of Barfoot & Thompson named Peter Thompson, the real impact of the lockdown would not be appearing until May's trading statistics are released.
The average price stood at $962,136, down by 3.2 per cent from the levels of March. But this average price is still higher than the average prices of January and February and also 3.6 per cent more than the average price in April last year.
The median price stood at $900,000, which was down by 2.7 per cent from the levels of March. Nevertheless, it was above the median prices of January and February and also 8.4 per cent more than in the month of April last year.